Original air date: 10/1/1992
Production code: 8F18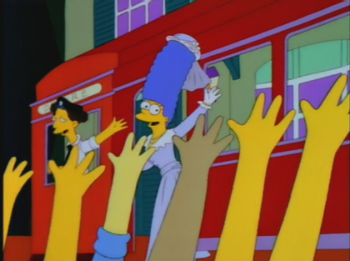 "♫ Long before the Superdome
Where the saints of football play
Lived a city that the damned call home
Hear their hellish roundelay... ♫"

Marge auditions for the role of Blanche in the local community theater's production of Oh, Streetcar!, a musical version of A Streetcar Named Desire, and gets it after the director (voiced by Jon Lovitz) notices how beaten-down and depressed she is whenever Homer orders her around. Meanwhile, Maggie is put in a daycare center modeled after the teachings of Ayn Rand.
This episode was the last one (in terms of airdates) to have Klasky-Csupo as an animation company. From "Homer the Heretic" through season 27, the show would be handled by Film Roman.
---
This episode contains examples of:
---