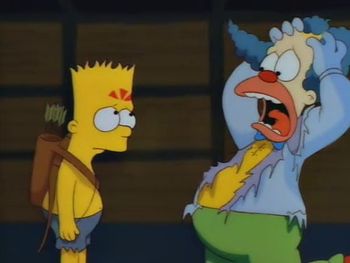 Original air date: 9/24/1992
Production code: 8F24
One of the series' most iconic episodes, notable for being one of three episodes considered for the plot of The Simpsons Movie, as well as being the last episode animated by Klasky-Csupo (in production order). It later received an Immediate Sequel in the 28th season called "Kamp Krustier", in which Homer's sexual frustration following the kids' return from camp leads to him becoming more productive at work, while the trauma experienced at camp catches up to Bart and Lisa.
The episode starts with Bart imagining the last day of school being a perfect day and then heading down for breakfast. He and Lisa are both excited because they will be going to Kamp Krusty the very next day, a new summer camp that, as its name suggests, is supposedly run by Bart's hero, Krusty the Clown, and whose advertising promises quite a number of fun activities. However, they must both make C averages.
Lisa gets all As ... and one B+ (much to her dismay), but Bart predictably gets all Ds. He tries to smooth-talk Mrs. Krabappel into changing his report card, but she refuses. He tries changing it from Ds to As on the way home, but even Homer isn't dumb enough to fall for his pathetic attempt. However, because Homer doesn't want Bart hanging around all summer, he permits him to go. The next day, Bart, Lisa and most of the other child characters on the series get on the bus for six weeks of fun at Kamp Krusty. When they're gone, the parents immediately start cheering and celebrating the thought of their kids being gone for six weeks and being able to do stuff they normally could not with kids around.
But when the kids arrive, Krusty is nowhere to be found. It turns out, the real owner of the camp is a man named Mr. Black (voiced by Harry Shearer), who merely bought the rights to use Krusty's name and image for the camp to attract kids and the clown has no actual association with the camp. But this is not all, as the marketing turned out to be false advertising. Instead of a fun and big budgeted summer camp, the titular Kamp Krusty is a low-budget, unsafe dystopia-like one, whose only purpose (save for making wallets in arts and crafts to sell) is to torture kids. Making matters worse, their counselors are none other than the bullies Jimbo, Dolph, and Kearney! The cabins are vermin-infested, cold and locked tight from the outside at night, the lakes too dangerous to swim in, the kids roast pinecones instead of marshmallows, they're forced into sweatshop labor (for example, making fake wallets for export to Hong Kong), their nature hikes end in disaster, the infirmary staff members are more interested in smoking than tending to injured campers, they're fed nothing but imitation gruel ("9 out of 10 orphans can't tell the difference") which sometimes has living animals inside of it, they do not get to write any letters to their parents for obvious reasons, their presents from home are taken, and they are forced to sing a song praising the camp. Mr. Black and the bullies on the other hand enjoy a life of luxury while the kids suffer miserably.
Despite all the aforementioned horrors the kids are put through, Mr. Black manages to keep them largely complacent on the false pretense that he is only temporarily assuming Krusty's role as camp manager, and that Krusty will be coming in a few weeks. However, it soon becomes apparent to everyone except Bart that this is not the case, and it's officially confirmed (to the audience at least), by showing him on a trip to London, unaware of the camp's true nature. Lisa manages to sneak a letter to Marge and Homer, warning them about the camp, but they just think she's exaggerating because she's homesick, and it looks as though all is lost for the unhappy campers.
Eventually, likely to get more work out of the kids, Mr. Black hires Barney Gumble to come dress up as Krusty for the kids. But with their spirits completely broken, all they can do is blindly wonder why "Krusty" is acting "so funny". However, Bart — who had staked his entire sanity on Krusty's arrival — finally snaps and leads a revolution to overthrow the camp Lord of the Flies style. Mr. Black and the counselors hightail it and the kids seize full control of the camp. This makes news, and Homer loses his newly grown hair and regains the weight he lost when he sees Bart is the leader. Because of the camp crisis, Krusty is called back from England and comes to the camp. After learning from Bart what he and the other children went through because of him, he genuinely apologizes to the kids, claiming that Mr. Black offered him a huge sum of money for the trademark rights. To make it up to them, he takes the kids on a trip to the "happiest place on Earth" — Tijuana, Mexico. They have a wonderful time there.
This episode contains examples of:
---