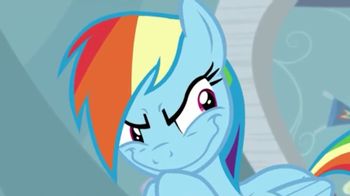 "Rainbow Dash, your winter is going to be...
petless."
— Fluttershy
Written by Cindy Morrow
The sky city of Cloudsdale begins to float over Ponyville, a signal that it's time for winter to come. As the Running of the Leaves starts the preparations for winter to arrive, Rainbow Dash excitedly starts planning her first winter with her pet tortoise, Tank. However, Tank seems lethargic and sleepy, even more so than usual. Rainbow takes Tank to Fluttershy, who tells Rainbow that Tank has to hibernate for the winter and will wake up in the spring. Refusing to believe it, Rainbow asks Spike for a second opinion, who tells her that even though he doesn't know anything about hibernation himself, he trusts Fluttershy's judgment. Frustrated and angry, Rainbow continues trying to push Tank to stay awake, despite the protests of her friends that Tank needs his sleep. Thinking it over at home, Rainbow eventually decides that if Tank needs the heat to stay awake, she'll just have to stop winter from coming.
Rainbow does her best to revert Ponyville back to fall, but she quickly finds that she can't keep up with the many ponies working to bring winter as scheduled. As she looks up into the sky in frustration, Cloudsdale catches her eye, giving her the idea to stop winter at its source. She sneaks into the city's weather factory with Tank during the workers' lunch break, making it all the way to the winter lab. There, she decides that the most effective way to sabotage winter is to drain all the water from the cloud-making machine so it can't make any more. She ties Tank's leash to a large magnifying glass to keep him out of trouble, but while she's draining the water, Tank's lethargic flying causes the magnifying glass to be sucked into a fan, which starts a massive chain reaction. The rest of the factory workers attempt to get things back under control, but it's too late. The weather factory launches a massive snowball toward Ponyville, instantly blanketing it in snow upon impact.
At her home, a depressed Rainbow Dash lies disconsolately with Tank on her bed. When the rest of the Mane Six arrive to cheer her up, their attempts are met with immediate dismissal by Rainbow. Finally, Fluttershy bluntly tells Rainbow that she'll have to spend the winter without her pet. This causes Rainbow to burst into tears, sobbing that she doesn't want Tank to go. Rainbow's friends try to console her, but Rarity, Pinkie Pie, and Fluttershy all end up crying too. Rainbow eventually calms down and accepts the fact that she and Tank must part.
As the rest of the Mane Six play in the snow, Rainbow arrives to bring Tank to his resting place. She asks him one last time if he really wants to hibernate, he nods, and the ponies say goodbye as he buries himself under the dirt and snow underneath a tree. Rainbow Dash stays by him for a little while longer as the others leave, saying that she wants to read him a bedtime story to help him fall asleep.
---
Tropes:
---