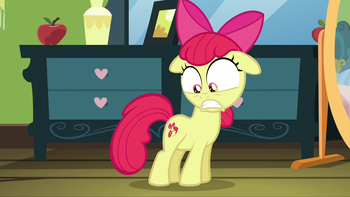 "Oh, Apple Bloom, you can't get away from your own shadow."
— Princess Luna
Written by Josh Haber
Apple Bloom calls a meeting of the Cutie Mark Crusaders together at their clubhouse to announce something special: Babs Seed has received her cutie mark (a pair of scissors)! As the Crusaders wonder about what it could mean for Babs, Sweetie Belle mentions the prospect of getting stuck with an undesirable cutie mark. The thought suddenly frightens Apple Bloom, who worries about it well into the night. She eventually manages to fall asleep after Applejack comforts her, saying that everything will be fine after a good night's sleep.
When Apple Bloom comes down for breakfast the next morning, she discovers that she got her cutie mark overnight! Apple Bloom is excited, but neither she nor Applejack can identify the cutie mark until a strange old stallion walks in and informs them that it's the mark of a pest controller, a difficult job that he's all too eager to pass on to Apple Bloom. He shows Apple Bloom how to catch twittermites, swarming bugs that can generate lightning. Apple Bloom learns quickly but is not very pleased with her new job. After Diamond Tiara and Silver Spoon mock Apple Bloom's lowly job, she tosses a jar of twittermites aside, unknowingly allowing them to escape, and flees into the forest. There, a dark figure offers to remove Apple Bloom's cutie mark. With the unwanted cutie mark removed, Apple Bloom happily returns to Ponyville, only to find the town overrun with twittermites. She tries to use the pest control equipment, but without the cutie mark, she is unable to capture them.
Just as the twittermites begin to target her, Apple Bloom wakes up to find it was only a dream. Relieved, she goes downstairs, only to find that she now has a different cutie mark, for potion-making. Overjoyed, Apple Bloom rushes off to show it to Sweetie Belle and Scootaloo, but when they see she got her cutie mark before them, they expel her from the Crusaders. Apple Bloom again runs off into the dark forest, where the dark figure again offers to remove the cutie mark. Apple Bloom returns to the clubhouse, but she finds that Sweetie Belle and Scootaloo now have their own cutie marks and want nothing to do with the cutie mark-less Apple Bloom.
Apple Bloom wakes up in bed again, feeling rather unsettled. This time, when she comes down to breakfast, she finds that she has a crude dolphin cutie mark. The entire Apple family shuns her for not having an apple-related cutie mark and throws her out of the house.
Yet again, Apple Bloom wakes up in bed. This time, while her flank is initially blank, it begins to sport random cutie marks, changing each time Apple Bloom turns around. Exasperated, she laments that she never wants to see another cutie mark again and races out of her room, finding herself in the dark forest yet again. She blames the dark figure for her troubles and tries to escape from it, but suddenly, Princess Luna appears and reveals the figure was only Apple Bloom's own shadow, created by her own fears. Luna tells Apple Bloom that her cutie mark is only a representation of herself, helping Apple Bloom realize that her cutie mark doesn't matter as long as she's happy with who she is. Luna then reveals that both Sweetie Belle and Scootaloo have been having cutie mark nightmares of their own and gathers the three together so Apple Bloom can share what she's learned. The trio are happy to put their nightmares behind them, but they worry that Babs Seed might be dealing with similar issues. They decide to send her a care package to show their support for her—as soon as they wake up.
With the nightmares finally over, Apple Bloom wakes once more and is happy to see that she doesn't have a cutie mark. Apple Bloom joins her family for breakfast and tells Applejack she was right in saying a good night's sleep would fix her worries, but she wishes that it weren't so exhausting.
---
Tropes:
---