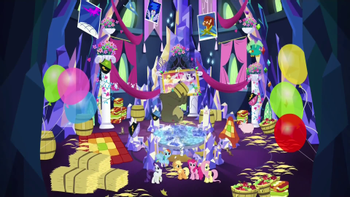 "Let's all work together to make this castle shine!"
— Rainbow Dash
Written by Joanna Lewis and Kristine Songco
After helping Fluttershy clean off the animals at her cottage, Twilight insists on staying longer, drying off Angel Bunny (after intentionally getting him muddy) and dusting Fluttershy's shelves, despite Fluttershy's hints that it's time for Twilight to leave. Twilight does, but not before she announces to a puzzled Fluttershy that she'll be going to help Pinkie Pie prepare pancakes for the next day's breakfast at Twilight's castle. The next morning, Pinkie mentions to the others over breakfast that Twilight stayed up all night helping her, thus explaining why Twilight is asleep in her chair. Applejack, Rarity, and Rainbow Dash recount their own stories of Twilight's odd behavior—digging extra holes while helping AJ, taking a whole afternoon to sort jewels for Rarity, and even repeatedly racing and losing to Rainbow Dash. They conclude that Twilight is avoiding something and confront her about it when she wakes up. Twilight admits that the castle doesn't feel like home, after the destruction of the Golden Oak Library by Lord Tirek. Twilight's friends offer to redecorate the castle while Twilight cleans herself up and gets a day at the spa to relax with Spike, which Twilight accepts.
The remaining five take to redecorating the castle, but each of them tries to add her own unique brand of what feels like "home" to her. Spike returns, having left Twilight at the spa for a while longer, only to find that everything is a complete mess. Rarity tells Spike to stall Twilight until sunset while they figure something out, and Spike returns to the spa. Twilight's friends argue about what needs to stay and what needs to go, while Twilight and Spike take longer at the spa and stop by the remains of the Golden Oak Library.
The other five first start by taking out objects one at a time, but soon come to disagreements on the absolute essentials, eventually taking out everything they started with, leaving the castle exactly as it was before. Discouraged that their offer will appear to have been for naught, they realize they weren't really working together. They start reminiscing about all the good times they had at the library, which suddenly gives Rarity an idea. While Spike continues to stall Twilight while ostensibly looking for a new bed, the rest of the Mane Six dig up the stump of the Golden Oak Library and hang it up in the throne room as a chandelier, ornamented with crystals that show images of the good times they had there and on other adventures. Moved to tears, Twilight hugs her friends, saying that it's just what the castle needed. As they head into the dining room to celebrate with cake, Twilight finds that the once-bare room has been completely redecorated, which Rarity admits is her work. The others in turn own up to adding their own personal touches to other rooms in the castle — individually and tastefully this time.
---
Tropes:
---