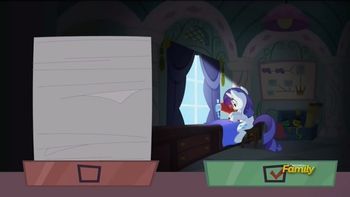 "I'm the
Cosmare
cover pony... I have the most successful shop in Canterlot... I've gotten everything I ever wanted... but I'm miserable!"
— Rarity
Written by Amy Keating Rogers
Rarity impatiently waits for her mail to be delivered at Carousel Boutique, as Pinkie Pie arrives with a letter, having gotten the regular mailpony sick when she fed him one of her strawberry cinnamon cilantro cupcakes. The letter Rarity's been waiting for has arrived, saying a storefront that she's been waiting for in Canterlot is finally available. With the bonus money she's saved from Sapphire Shores' World Tour, Rarity can finally fulfill her dream of having her own boutique in Canterlot.
As "Canterlot Carousel" is set to open, Rarity hires Sassy Saddles, a veteran manager of many clothing stores, to help her get everything ready. Sassy has a multi-point plan to get Rarity's new boutique as much business as possible, starting with a line of brand new dresses inspired by the Equestrian Princesses. Sassy takes charge of the opening, even butting Rarity out of the way to do it, which her friends notice. Rarity takes this in stride and manages to show off her collection with Sassy's help, including a signature dress shown off by Twilight Sparkle that Rarity dubbed "Reign in Stain". Sassy instead advertises it as "the Princess Dress", arguing that it is more marketable that way. After the opening, Rarity becomes even more frustrated when Sassy takes one hundred orders for the Princess Dress, leaving her other dress designs to fall by the wayside. Her "Rules of Rarity" say that every dress needs care, and Rarity puts her all into making them.
The Princess Dress becomes an instant success, and soon, every mare in Canterlot wants one for herself. While initially quite excited at all of the business, Rarity is left feeling burnt out at making the same dress over and over. While resting from her work, Rarity sees a few gemstones shining their light on the dress, giving her an idea to make up the Princess Dress with new gemstones. However, a customer who ordered the dress dismisses it, because it wasn't what she ordered — a Princess Dress exactly like the one Twilight wore. Dejected, Rarity returns to making the Princess Dress, feeling heartbroken that her creativity is all but gone.
After completing two hundred Princess Dresses, Sassy enters with a hundred more orders. Rarity argues that this isn't what she wants to do, but Sassy is too caught up in her own success, even taking credit for the whole boutique. Rarity finally puts her hoof down, saying that if this is what it means to be successful in Canterlot, then she wants no part of it, telling Sassy to prepare a "going out of business" sale. Rarity pulls all the Princess Dresses off the showroom floor and displays the other outfits she has in stock, and the customers take a liking to them. After seeing how much the customers like the variety, Rarity decides not to close Canterlot Carousel after all, and Sassy comes to realize what Rarity's rules really mean. Sassy apologizes to Rarity and prepares to leave, assuming she has been fired, but Rarity allows Sassy to stay. While Rarity loves her new boutique, she'd always intended Ponyville to be her "home base," so she keeps Sassy on to run Canterlot Carousel in her stead. Sassy enthusiastically agrees, promising to follow the "Rules of Rarity" from now on.
---
Tropes:
---