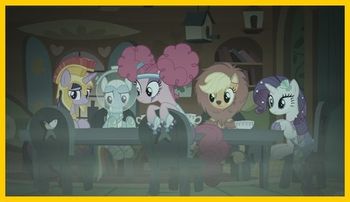 Fluttershy: You all may love Nightmare Night and I may be good at being a part of it, but it's no fun for me to see my friends feel like they're in danger, even if I know they're not. I really don't like it. It's just not my cup of tea.
Pinkie Pie: Spoooooooooky tea?
Fluttershy: No. Just regular tea.
Written by Natasha Levinger
Fluttershy and her animal friends secure her cottage for Nightmare Night, making sure that nothing scary can get in. As is tradition for the timid pegasus, she is attempting to avoid setting a hoof outside at all so as to not be scared, including making a hiding spot with provisions under her bed. However, in her haste, she forgot to buy any food for Angel Bunny. While scared, Fluttershy nonetheless faces her fears by going out into Ponyville to search for vegetables.
While in Ponyville, Fluttershy is scared by all of the spooky decoration and Granny Smith's description of the corn maze she's setting up on the Apple family farm. Fluttershy runs to Twilight's castle, where she finds Spike, who invites her to go out with the rest of the Mane Six. Fluttershy tries to turn him down, but Spike points out that she's already away from home, so she should hang out with her friends. Fluttershy agrees, and finds the others up in the library, telling ghost stories. While the Mane Six are excited to have Fluttershy with them, she's still rather reluctant to join in. Rarity helps Fluttershy pick out a costume, and Pinkie Pie creates bags of candy for everypony, as well as getting some non-scary Nightmare Night games for them to play. But, at every turn, Fluttershy comes up with increasingly worried reasons not to participate.
Fluttershy is disappointed that she's not getting into the spirit, until Twilight Sparkle suggests that Fluttershy be the one doing the scaring instead of being scared. Fluttershy likes the idea, and invites the Mane Six to her cottage after an hour of preparation. Despite Fluttershy's best efforts, none of her plans turn out the least bit scary, despite the Mane Six's attempts to play along. Finally, Fluttershy tells them to go have fun without her, and they leave her cottage, disappointed. While Fluttershy sulks, Angel comes up with an idea for how she can be really scary...
At the Apple family's corn maze, the Mane Six are all enjoying the normal spooky delights, until they start seeing something stalking them out of the corner of their eyes, along with ghosts flying at them. Eventually they fall down a hole and are sealed in by a large rock. While Applejack tries to play down her fears, she admits that none of it was part of the maze that she drew up. Finally, while in the hole, a giant monster chases them onto a cliffside, where none other than Flutterbat swoops in over them, terrifying her friends. Suddenly, Fluttershy drops the act, apologizing for scaring them so badly, revealing that she and her animal friends set everything up with Granny Smith to make the maze more scary. But, the Mane Six are happy that Fluttershy finally came out of her shell. Still, Fluttershy admits to them that Nightmare Night will never be her cup of tea, even if she enjoyed this one. Back at her cottage, Fluttershy reads a book in her hiding spot, saying that she wasn't sure why she ever doubted herself.
---
Tropes:
---