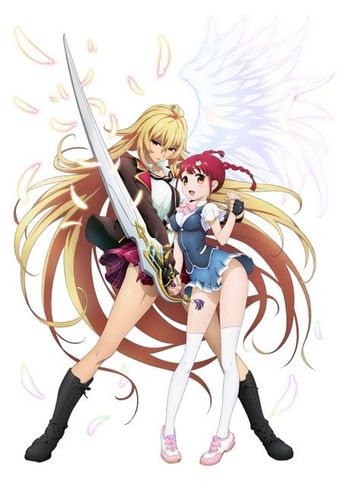 Valkyrie Drive: Mermaid is the anime portion of Marvelous's Valkyrie Drive project. For the video game side, see the page for Valkyrie Drive -Bhikkhuni-.
A mysterious virus has swept the world. A virus that only affects girls. The Liberator strain of the virus provides increased speed, strength, and agility to those infected. The Extar strain of the virus will cause those infected to physically transform into a weapon of some kind — as long as they have been sexually aroused by a girl infected with the Liberator strain.
Girls infected with this virus are quarantined on Mermaid Island. Mamori, a naive and sexually inexperienced teenaged girl, has been infected with the Extar strain and has been sent to the island as a consequence. Fortunately for her, she manages to find her Liberator — a buxom badass named Mirei. The story follows these two as they navigate the authoritarian society of the island.
Valkyrie Drive: Mermaid provides examples of:
Actual Pacifist: Mamori hates violence and tries numerous times to find a peaceful solution to her situation. Unfortunately, the inhabitants of Mermaid simply refuse to grant her one. Offering to surrender is seen as an invitation to get killed.
All There in the Manual: The setting of the series was expanded through six short stories written by the anime's staff. It was on these stories were Lady Lady and Akira's backstories were revealed.
And the Adventure Continues:

After freeing the inhabitants of Mermaid Island, Mamori and Mirei, along with Meifeng and Lady Lady, decide to help others inflicted with the Arm Virus

. It also serves as a Sequel Hook.
Artistic License – Biology: This goes without saying. It is highly unlikely, if not outright impossible for a virus to grant people the ability to turn into weapons and back again. Especially weapons with Bottomless Magazines.
Artistic License – Law: Granted, Rain is no legal scholar, and she most likely believes that the UN drafted legislation to "honor the human rights" of those infected with the Arms virus by shipping them off to Mermaid and the other four artificial islands. This is not how the UN works, however. The UN does not write bills and have them signed into law. They can propose resolutions and deliver sanctions, but more often than not, they propose treaties that are then taken back to the member countries and ratified there.
Attack of the 50-Foot Whatever: Nimi Minimi.

Turns out, that's her Extar ability

.
Author Appeal:

The director of this series, Hiraku Kaneko, is well known for directing near-pornographic ecchi series with tons of busty characters and a lot of breast-focused fanservice. This series continues that trend.
And let's not forget that this franchise is made by Kenichiro Takaki, the creator of Senran Kagura. Like the director, he is very fond of breasts.

Badass and Child Duo: In terms of appearance and personality, played straight. In terms of age, subverted.
Beginner's Luck: Not long after awakening as an Extar and Liberator, Mamori and Mirei have already defeated other Extars and Liberators with far more experience than them. Although, it's later revealed that Mirei is

actually an experienced Liberator.

Beneficial Disease: The Armed Virus, which gives the infected their powers. For Liberators, it gives them an increase in physical prowess and the ability to transform their Extars. For Extars, it mostly takes the form of them transforming into weapons. Though some do transform into other things like Lady J's motorcycle form and Nimi's

giant form

.
BFS: Both Mamori and

Momoka, wielded in Mirei's flashback and later by Charlotte,

are swords almost as big as Mirei is.
Bitch in Sheep's Clothing

Nukui seems like a polite and composed person at first, but she quickly reveals herself to be an extremely violent rapist. Especially when Mamori rejects her.
When Momoka was brought before Charlotte and Kasumi, she acted like a bubbly air-head. In reality, her personality's even worse than Charlotte, and that's no easy task.

Brought Down to Normal:

Once Mamori and Mirei reach a 100% Valkyrie Effect, they are able to absorb the Armed Viruses out of all the females in Mermaid island, turning everybody normal with the exception of themselves and Lady Lady (who refused to be cured)

.
Brains and Brawn: As time goes on, Mamori and Mirei develop this type of dynamic with Mamori as the brains and Mirei as the brawn while Mamori is not in Arms mode. Good thing Mirei prefers to follow Mamori's lead, as long as the situation is not too dire.
The Cameo:

Rinka and Ranka Kagurazaka, the main characters from Valkyrie Drive -Bhikkhuni- have a small scene in the last episode of the series.
Setsuna Kisaragi and Urara Sahshou, main characters of the now-defunct mobile game Valkyrie Drive -Siren- are shown along the Kagurazakas in the manga adaptation of the above scene.

Cast Full of Gay: Every named character is either a lesbian or bisexual.
Child Soldier: In episode 2, a flashback is shown of Mirei, who's only fifteen in the present story, and another Extar fighting in a warzone.
Closed Circle: The characters are on a remote island surrounded by a giant barrier. It's near impossible for them to leave
Clothing Damage

Miyasato and Kouzuki's swimsuits shred to pieces as they lose to Mirei, leaving them topless.
Kasumi's leg muscles tensing shreds her own pantyhose when she kicks Mirei.
Akira's clothes almost completely disintegrate in the fight with Momoka.

Coitus Uninterruptus: Miyasato decides to give Mamori a demonstration of what Extars and Liberators are by fondling her partner, Kouzuki, right in front of her (Extars need to be sexually aroused to transform).
Cyborg: Artificial Arms, at least the first generation ones, consist of brain and spinal grown from cloned cells that have been injected with Arm virus and robotic body that they are placed in.
Dark and Troubled Past: Many of the main cast have one. Considering that Mermaid is a quarantine facility, in name only, and instead serves as a Penal Colony, this is hardly surprising.
Daydream Surprise: In episode 4 Mamori is awoken in the middle of the night by Akira. He leads her outside where the two have a conversion, which ends with Akira fondling her on the ground.

However, it's quickly revealed that Akira is just an illusion made by another member of the Adel and Mamori's fondling herself.

Despotism Justifies the Means: Meifeng explains in episode 3 that this is the way the Wärter organization does things. New recruits are tested in combat. The weak are forced to obey "for protection" and the strong are "invited" to join the organization.
Deus Sex Machina: To turn into weapons, Extars have to enter a trance-like state. While sexual arousal isn't required, it is the easiest way to get Extars to transform.
Dispel Magic: Rain can turn into a huge gun, capable of firing blasts that forcibly revert an Extar's transformation.
Dragon with an Agenda: Momoka manages to pull this twice She helps Charlotte become the leader of Wärter because she knows Charlotte will try to round all the inhabitants on the island and bring them to Veste. Having everyone in one place makes it easier for her and her partners to find the one that is the source of the Valkyrie effect. Once she localizes the source of the Valkyrie Effect, she takes the power for herself and goes in a Roaring Rampage of Revenge.
Embarrassing Last Name: Mamori's surname is written with the same kanji for "virgin". She gets very embarrassed when people point that out.
Equippable Ally:

What the V-Virus causes on Extars.
The VR strain allows the roles to be switched at will.

Evolving Weapon: Extars can change and become better weapons when their sync ratio with their Liberator partner is high enough.

This happens to Mamori in episode 8.

Gender-Restricted Ability: The Armed Virus doesn't affect Y chromosomes, so only females can become Extars and Liberators.

Momoka knows this; it's why Akira's disguise isn't able to fool her.

Gilded Cage: Mermaid is amazingly comfortable for a combination leper colony and prison. It's a tropical island with a big fancy castle in the center that gives them all the supplies that they need, even supplying holographic videophones and armored personnel carriers. Hopefully, you'll never want to speak to your family, because the inmates have no contact with the outside world.
---