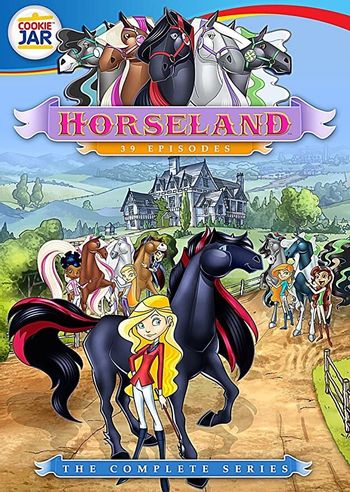 An animated series based on a virtual pet game by
DiC Entertainment
.
It stars a bunch of teenage kids at a horse ranch called, you guessed it, Horseland. It features your typical teen problems and various situations involving horses. Basically, it's an animated version of The Saddle Club.
The series returned to CBS as part of Cookie Jar TV on February 5, 2011.
---
Horseland includes examples of:
Jerk with a Heart of Gold: Zoey and Chloe Stilton. Even though they consistently act like bitches to almost everyone, they do have soft sides that they will show on occasion. Of note, by nature of the show's premise, most of the human characters, major and one-shot, would more than likely have to come from some form of well-off background, to varying extents (Jesse being the son of another ranch-owning familynote , for example), yet despite this, no one else plays this Trope straight like Zoey and Chloe do. Special mention goes to Sarah, as implied wealthy as the Stilton twins, who was assumed to be just as stuck-up as them by the other girls on her first day, thus setting up a "Don't judge a book by its cover." Aesop.
Jerk with a Heart of Jerk: The one-off character Talia Bentley from "Changing Spots"; she's an even worse Alpha Bitch example than the Stiltons are, only caring about winning on the spot. She's basically what the Stiltons would've been if they weren't loveable.
Rapunzel Hair: The horses have unrealistically long manes and tails.
---