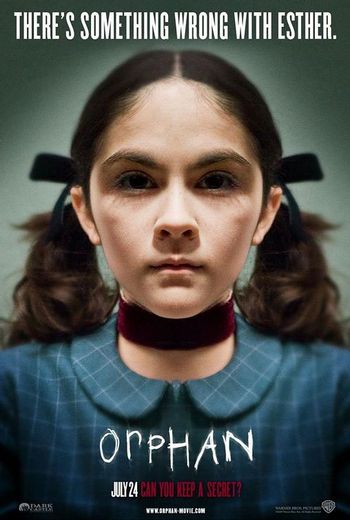 John: What are you suggesting here? That [Esther] had anything to do with any of this? It's ridiculous.
Sister Abigail: That a child could commit such crimes. It just flies in the face of everything I believe.
Orphan is a 2009 psychological horror film directed by Jaume Collet-Serra and written by David Leslie Johnson, with its original story by Alex Mace. Production was split between two companies, one of them being Appian Way Productions, founded by Leonardo DiCaprio, who also directly co-produced the film, with distribution being handled by Warner Bros.
One of the few things on which pianist Kate Coleman (Vera Farmiga) agrees with her apathetic architect husband John (Peter Sarsgaard) is that a drastic change is needed to save their rocky marriage. With the burden of John's past infidelity, the emotional distance of their rebellious adolescent son Daniel (Jimmy Bennett), and the helplessness of their deaf younger daughter Max (Aryana Engineer), the loss of Kate's third baby in childbirth breaks her sanity and drowns her in a sea of alcoholism.
In an attempt to find an alternative outlet of love meant for their stillborn child, the Colemans take in a mysterious 9-year-old Russian orphan called Esther (Isabelle Fuhrman). Max, in her innocence, is ecstatic to finally have a big sister; Daniel is less than enthusiastic due to the bullying he receives at school from her eccentricities.
Polite and creative, Esther initially has a sensitivity and charm that begins to thaw the frozen hearts of the Coleman couple... and that's when people around them start getting hurt.
This film's story does contain major twists, so beware of spoilers.
In February 2020, a prequel titled Esther was announced. Production was slated to begin in summer 2020, but was halted due to the COVID-19 Pandemic until November, when the prequel was officially renamed Orphan: First Kill. The film was eventually released in August 2022. Fuhrman reprised her role in the film, joined by Julia Stiles and Rossif Sutherland (Reign, Trench 11) as the parents of the family she joins.
---
Orphan contains examples of:
---
♫ You've got to win a little,
Lose a little, and always have the blues a little
That's the story of, that's the glory of love. ♫