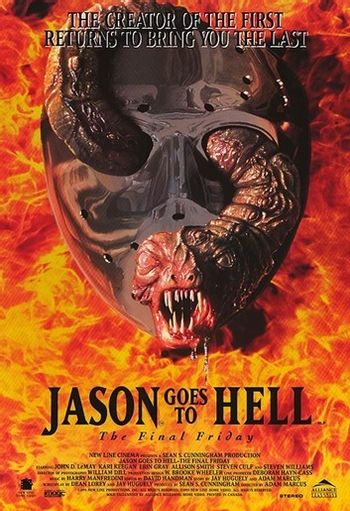 "Horror, has many faces... death, wears many different masks... but pure evil, wears only one... and this is your final chance, to see it."
The ninth Friday the 13th film released in 1993.
During an attempt to do what he does best — kill anyone who gets in his way — Jason Voorhees falls into a trap devised by the US Government. Military agents spend a couple of minutes pouring bullets into the Crystal Lake Killer before using a well-placed explosive device to make him rest in pieces.
But not even death can stop Jason Voorhees.
During the autopsy of (what remains of) his remains, Jason's dead heart beats on its own; the medical examiner is driven to eat it, and this allows Jason to possess the poor bastard — and anyone who gets in his way. As "Jason" makes his way back to Crystal Lake, a spotlight-hungry bounty hunter (Steven Williams) warns the town about the undead killer's true goal: Jason must possess a member of the Voorhees bloodline to fully reincarnate... and a number of Voorhees family members conveniently live near the ill-fated lake.
---
Jason tried to drag these tropes to Hell with him; as you can see, he failed:
---