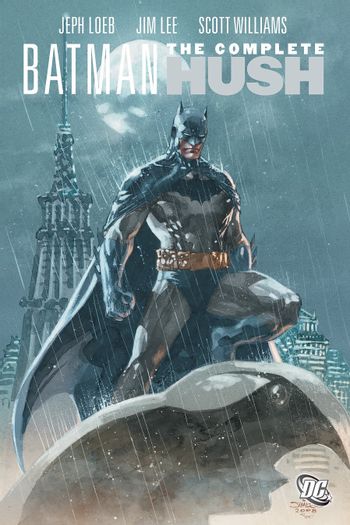 "Batman: Hush" is a 12-issue story, out of the monthly Batman comic, published between December 2002-September 2003, written by Jeph Loeb and illustrated by Jim Lee, Scott Williams, and Alex Sinclair.
It marked Jim Lee's first major return to monthly comics since Heroes Reborn for Marvel in the mid 90s, plus his first collaboration with Jeph Loeb (who to that point had made a name for himself on Challengers of the Unknown, plus the Legends of the Dark Knight Halloween specials, The Long Halloween and Dark Victory).
It worked alongside stories from the comics of the day (namely Lex Luthor being president of the United States, Jim Gordon's retirement, plus Gotham still recovering from an earthquake and Batman: No Man's Land), and had massive repercussions that to a large extent still impact the Bat-universe to this day.
The plot goes something like this: an old/new enemy of the Batman is striking at him in all new, all-murdery ways. At the same time, the B-man undergoes a deeply introspective deconstruction that brings into question his views on his allies, his villains, and himself. Characters and themes introduced here (namely Dr Thomas Elliot) show up in other cross-media places, like Gotham and the Batman: Arkham series
Loeb tied up some threads from this story in his run on Superman/Batman, and eventually went off to Marvel; while Jim Lee went on to draw All-Star Batman & Robin, the Boy Wonder for Frank Miller in 2006, and later still become one of DC's co-publishers.
An Animated Adaptation by the way of the DC Universe Animated Original Movies has been rumored for a while, and Batman: Hush was finally announced at the 2018 San Diego Comic-Con as part of the 2019 lineup.
Batman: Hush contains examples of:
---
---