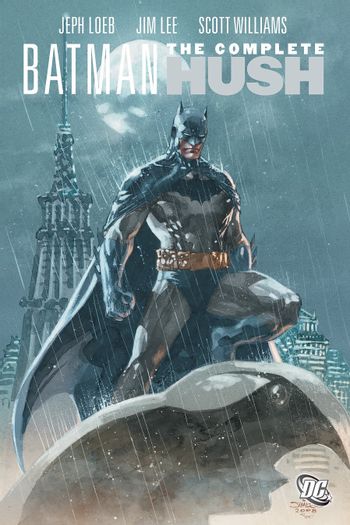 "Batman: Hush" is a 12-issue story, out of the monthly Batman comic, published between December 2002-September 2003, written by Jeph Loeb and illustrated by Jim Lee, Scott Williams, and Alex Sinclair.
It marked Jim Lee's first major return to monthly comics since Heroes Reborn for Marvel in the mid 90s, plus his first collaboration with Jeph Loeb (who to that point had made a name for himself on Challengers of the Unknown, plus the Legends of the Dark Knight Halloween specials, The Long Halloween and Dark Victory).
It worked alongside stories from the comics of the day (namely Lex Luthor being president of the United States, Jim Gordon's retirement, plus Gotham still recovering from an earthquake and Batman: No Man's Land), and had massive repercussions that to a large extent still impact the Bat-universe to this day.
The plot goes something like this: an old/new enemy of the Batman is striking at him in all new, all-murdery ways. At the same time, the B-man undergoes a deeply introspective deconstruction that brings into question his views on his allies, his villains, and himself. Characters and themes introduced here (namely Dr Thomas Elliot) show up in other cross-media places, like Gotham and the Batman: Arkham series
Loeb tied up some threads from this story in his run on Superman/Batman, and eventually went off to Marvel; while Jim Lee went on to draw All-Star Batman & Robin, the Boy Wonder for Frank Miller in 2006, and later still become one of DC's co-publishers.
An Animated Adaptation by the way of the DC Universe Animated Original Movies has been rumored for a while, and Batman: Hush was finally announced at the 2018 San Diego Comic-Con as part of the 2019 lineup.
Batman: Hush contains examples of:
---
Continuity Nod: Being a Loeb story, it's a cavalcade of continuity references, a good deal of them to The Long Halloween and Dark Victory.

The Falcone penthouse shows up in #613.
Dent mentions that the Joker broke into Dent's home and beat him up. This was in The Long Halloween #4.
Scarecrow talks in nursery rhymes again.
Whole Plot Reference to the above stories: A mysterious new villain shows up with a new scheme, in the process testing the Batman's resolve while he deals with his existing Rogues.
Much of the arc is an Internal Homage to the most iconic Batman stories. Batman gets into a fight with Superman (Batman: The Dark Knight Returns), is dealt a seriously debilitating injury (Knightfall), deals with a seemingly resurrected Jason Todd (A Death in the Family), gets into a swordfight with Ra's al Ghul in a desert in the Middle East (the famous O'Neil/Adams run), and contemplates killing the Joker after he crosses the line one too many times (The Killing Joke).
Self-Made Orphan: Tommy.

He tried to kill his parents at a young age in order to inherit their riches and because his father was an abusive monster and his mother a simpering money hungry lunatic. He only succeeded in killing his father, and, to avoid suspicion, didn't try again, only truly being orphaned when he smothered his raving senile mother in a fit of anger.

Sequel Hook: By the end of the story, the one mystery that is left unsolved is what happened to Jason Todd's corpse. This sets up his return as Red Hood.
Shout-Out: Some tombstones in the Gotham graveyard bear the names of famous characters from Marvel Comics. In the panel where Batman and the Scarecrow arrive in the cemetery, one of the graves has the inscription "R.I.P. Gene Grey"; and in the panel in which Catwoman attacks Jason Todd, a tombstone in the foreground has a partially obscured sentence: "In loving memory of Gw... St...", which Jim Lee has confirmed to be a reference to Gwen Stacy.
Verbal Tic: The Scarecrow speaks in nursery rhymes even as Batman beats his face in.
Villain Team-Up: As a hallmark of Loeb's storytelling, the plot follows the Riddler and Hush as they convince all the major players to go along with their plan: Scarecrow gets to do more research, Harley gets to work with the Joker, and the Joker signs on when he hears they're going to piss on Jason Todd's lawn.
Witch with a Capital "B": Poison Ivy and Catwoman trade insults during their fight. When the former gets the upper hand, she noticeably stutters before calling Selina a "witch".

Poison Ivy: The plants don't like it when you touch their mother... Witch!
---