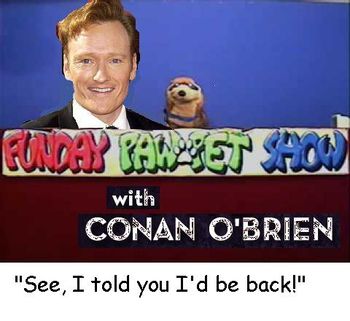 The Funday Pawpet Show is the Internet's longest running interactive live weekly puppet show. The show started netcasting in November of 1999. The show runs four hours live from 6pm to 10pm Eastern Time Sunday Nights originating from the Orlando, Florida area. The audience interacts with the performers via IRC channel and artwork sent in to the show through the show's website
. Being based in Orlando, the show was a favorite of many Disney Imagineers, and elements of the show have found their way into some recent productions. Basically the show is Monty Python meets the Muppets.
On September 3rd, 2017, the show went on hiatus, citing administrative issues, problems with music licensing, and lack of platform to air on. However, on September 2, 2018, it was announced that the show would be coming back, with the first broadcast of the "new" FPS airing on September 9, 2018.
The full archives can be found on their website here
.
---
The show provides examples of:
Shout-Out: The show got the term "Pawpet" from the little puppet shows that Snoopy would give from atop his doghouse from time to time (generally in Sunday strips).
Smelly Skunk: Viewer Garrison, having been a part of the audience all the way back to episode 6, over the years originated many things that are now Pawpet staples such as the Art Jam (suggested back when Yappy originally rejected it as undoable as it would flood the mail server), the Arthur Awards, Bandit Cam, J.R. The Hutt, and the Sgt Yappy picture celebrating the show's first 100 episodes.
Species Surname: •Both followed (Poink T. Ferret, Java Frog, Hump T. Camel, Hugh Manatee, Temp Ferret) and averted (Mutt Barker - illegitimate son of Bob, Arthur Bronswagger, Jimmy Noneck, Shak, Ezra Shawartz, Crappy Shawartz). One of the newest characters, Gof, has a name that stands for Gray Old Fox.
Spinoff: The OMFG Blitz! Show
---