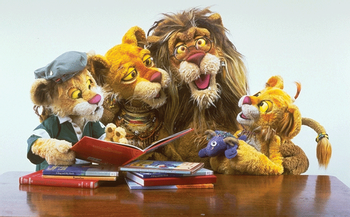 Between The Lions is a PBS Kids show with puppet/marionette animal characters designed to teach reading. As the title suggests, the main characters are a family of lions who live in a library. The series, produced by WGBH Boston, Sirius Thinking, Ltd. in New York City, and Mississippi Public Broadcasting (the latter PBS station co-producing from 2005-2010), ran from April 3, 2000 until November 22, 2010.
The series was known to have a writing team who sometimes forget that this is an Edutainment show and made it far too amusing to watch, be the age group younger or older. There are also a lot of jabs at famous children's books, such as Dick and Jane becoming "Chicken Jane".
Yes, it's just as silly as it sounds.
---
Tropes include the following:
Adaptation Species Change: Rumpelstiltskin is not an elf, but a troll.
An Aesop:

A variation involving a spelling lesson rather than a moral lesson: one Dr. Nitwhite sketch has him appear on a talk show, discussing his discovery that the letters "EA" always make the "long E" sound, which is what kids are usually taught in schools. The host's response? "That's really great."
The story "The Queen who Wanted to Touch the Moon" is a complete inversion of the usual aesop about determination. Because of her determination to touch the moon,

the queen ended up falling to her death.

It just goes to show that there is a difference between giving up and knowing when to turn back.
Gus' introductory episode has him struggling with reading and writing because of an unidentified learning difference. The lions teach him that learning to read takes time and if you work at it harder, you'll get there. With many schools having special classes for dyslexia, it has aged pretty well.
"Little Big Mouse" has Click learn that even if you may feel unappreciated or insignificant, even the smallest thing you do can make a big difference.
It goes without saying that the moral of "Pandora's Box" is not only "Curiosity killed the cat" but that "Great misfortune can beget hope".
"You Can't Catch Me" has Leona not wanting to say goodbye to the Gingerbread Man because of him getting eaten and on her birthday. Her parents sing her a song about how saying goodbye to someone we love is inevitable, but it doesn't mean that person has to truly leave, because we can still remember all the great things we learned from them and the times we've had together.
The song, "A Good Sad Book" features Theo teaching us how even the saddest things can make us feel better. It may be hard to handle emotional material in books, movies or television shows, but it can help us appreciate what we have.
In the same episode, Leona is dissatisfied with the tragic story of "The King and the Hawk", but after she snaps at Lionel, comes out of the experience learning two important lessons. First, the book (In-Universe) teaches her that you shouldn't lash out at somebody who's just trying to help you. Second, it's unfair to write off a story for being bad because it had a tragic ending. Sometimes, such stories are meant to teach you lessons that happy stories can't.
In the episode about "Rats", the two-part storybook about the rats of Ireland has a two-fold lesson about name-calling. The first half of the story teaches that name-calling can deeply hurt other people's feelings, even change how someone views themselves (something Leona could attest to). However, the second half of the story teaches that even though it hurts to be called names, never forget that such names aren't true about who you are. Name-calling shouldn't stop you from being yourself or from doing what you love.
"The Good Seed" explores the simple lesson that honesty is the best policy, and as long as you've done your best, you've done enough. This is paralleled when Lionel tries to be a librarian for a day, only to accidentally infect the library's computer systems with a virus.
"The Boy who cried Wolf" classically presents the moral that you shouldn't needlessly cry for help unless you really need help.
"Five, Six and Thistle Sticks" has Lionel and Lenny read a book towards the end that teaches the two that just because two friends have different interests doesn't mean they have to end their friendship.
"But Mama But..." explores that it's okay to miss your mother, even if you're grown or independent.
"The Chess Mess" is about Theo teaching his children that winning or losing shouldn't effect how you enjoy the game. What's important is having fun, regardless of the game's outcome.

All Just a Dream:

Lionel's antlers turned out to be just that... to Leona.

There's at least one Cliff Hanger installment where Cliff wishes upon a star to be rescued from the cliff, after which the singers in the helicopter finally rescue him...only for the segment to reveal itself to be a dream, to Cliff's surprise...and later chagrin as he is still hanging from that cliff.

Narrator

: (

as Cliff climbs the ladder dropped for him by the singers

) Can all be well thanks to Cliff's wistful wish?

Cliff

: That's easy for you to say...

Narrator

: No, it is only a dream!

(

cue Cliff waking up; still hanging from the cliff

)

Cliff

:

A...dream...?

(

grips the tree root again

)

"

AND THAT'S WHY HE'S CALLED CLIFF HANGER!!

"
Stealth Pun: The title is not only a pun on "between the lines", but it also refers to the fact that there are lion statues near the entrance of the library, which you must walk between to enter. This is a Shout-Out to the lions at the main branch of the New York Public Library.

The ten little words were all partying on

They danced on the table, they danced on the lawn!

Stock Footage: The show never made more than a handful of each short, often no more than three, meaning many familiar clips would be shown again and again in later episodes.
Surfer Dude: Gawain from "Gawain's World" talks like one, except he prefers hosting jousts to surfing.
Tagline: "Get wild about reading."
Take a Third Option: In "Bobby the Hopping Robot," Theo is sure that either he or the toy robot must be defective because he can't make it work, but Leona calls the help number and finds out that it's actually the instructions that are wrong.
Tempting Fate: When the entire library gets trapped inside a book about ships and find themselves horribly cramped in a single compartment, they are horrified to find that Click is in sleep mode and thus can't get them out. Leona mentions that "it could be a lot worse", to which the entire room screams "NO, IT COULDN'T!!" Not ten seconds later, a ship captain tries to check the book out for his two-year voyage at sea; cue Mass "Oh, Crap!" from everyone present.
Tiny Guy, Huge Girl: The unnamed man and woman who appear in every Lone Rearranger episode, ever. The man has a blond mustache and is pint-sized, while the woman is a tall redhead with glasses. Unfortunately, in the "horses riding cowboys" episode, her horse still broke her back.
Title Theme Tune: "Between the Lions, between the covers of a book, it's time to look Between the Lions!"

Thematic Theme Tune: The title sequence comes off as though the production team dolled up one of the show's inserts and decided to use it as the opening.

Tongue Twister: Trixie the Tricky Pixie offers to help Cliff Hanger if he can say, "six thick thistle sticks."

By the time Cliff succeeds, night has fallen, and Trixie says she has to go to a picnic in Dixie.

At the end of the segment, Cliff gets his catchphrase mixed up, saying it as "Can't...hold...on...luch...monger!"

The same episode featured Lionel claiming he could say any Tongue Twister in the book...and then getting tangled up when Leona twists the in-universe example "Peter Piper picked a peck of purple pickled peppers" into "A purple pickled pepper picked a peck of Peter Pipers."
Sven said ten tents/Ted sent ten cents...

Too Dumb to Live: Cliff Hanger, especially starting around the fifth season.

Scot and Dot in the "Chicken Jane" stories. Chicken Jane always ends up hurting herself in some way when getting Scot and Dot out of danger, but at least they thank her for it.
The brave police officer chasing down Silent E. Every time he succeeds in capturing the fugitive, he is easily tricked into giving the villain something with which he can use his powers to change into a tool for escape. Said officer should really be more mindful of what his nemesis is capable of even behind bars.
The two sailors trying to track down Moby Duck, which is literally sitting right behind them.

Totally Radical: Gawain, the host knight of the "Gawain's Word" segments.
Trouser Space: Pretty much Arty Smartypants' whole shtick.
Truck Driver's Gear Change:

The first verse of the song "Double O, OO" is in Eb major. The second verse is in E major.
Most of "Grubby Pup" is in D major, but the final verse is in E major.

The Ugly Guy's Hot Daughter: Arty and Marmy Smartypants invert this trope twice, giving us the hot girl's ugly son.
Uncommon Time: The verse of "Irish Step Dance" is in 4/4 time, but the chorus in 6/8 time.
Unexpectedly Dark Episode: "A King and His Hawk." While Never Say "Die" is firmly in place for all the other season 1 episodes, this episode averts the trope...and boy, does it ever. Worse is the Story Within a Story: the king and the hawk are stranded in a desert with no food or water. It takes a long time for them to find an oasis. Every time the king tries to drink from the oasis, the hawk stops him, king becomes furious and kills him. As he is about to drink one more time, he noticed that the oasis is poisoned and he killed his best friend for saving his life! The hawk is also the only time a corpse is shown in the show's entirety.
Unwitting Instigator of Doom:

Theo becomes this in one episode where he takes a book out from the middle of a tall stack, causing a highly unlikely chain of events that results in the library getting trashed by its many eccentric patrons. Cleo mentions that this is a bad habit of his.
Lionel is left in charge of the library and against Click's warnings, opens a suspicious email that unleashes a dangerous computer virus that wreaks havoc on the entire library.
Leona fashions herself a hat that is green on one side and red on the other, and soon a massive fight in the library breaks out over what color the hat actually was, eventually forcing Leona to march through the crowd once more to show them the fuller picture.

Very Special Episode: "Humph, Humph, Humph!" This episode introduces us to Gus, a rabbit who Never Learned to Read. This episode teaches viewers about people with learning disabilities. Unlike most examples though, Gus shows up in later episodes.
Victory Is Boring: Cliff Hanger's cartoonist decided to retire his comic, and had Cliff get off of the cliff and onto a beach. Cliff enjoyed it at first, but soon lost his sense of purpose.
"The Villain Sucks" Song: "Silent E". One of those examples where it'd likely be a true Villain Song had he sung it himself (though of course he wouldn't, since he's, well, silent).
Visual Pun: Click the Computer Mouse looks like the rodent of the same name.
Whole Episode Flashback: The Season 6 episode "The Goat in the Coat" is the same as the Season 3 episode "Two Coats, One Goat, and One Boat," except with added inserts where Lionel and new character Sierra the Mountain Lion recap the story, with Sierra doing her parts in Spanish.
Who's on First?: An example very similar to the original gag. In one skit called The Question Scouts, a scout leader asks the scouts for their names, which unfortunately are Who, What, Where, and Why. The ending is especially similar:

Scout leader: All right! So you're Why, you're Who, you're Where, and you're what.

Scouts: Right!

Scout leader: Fine. Now when...

When (arriving late) Here!

Wishing for More Wishes: At least two variations:

At the end of "Sausage Nose:"

"I wish for the sausage on my nose to come off my nose and appear on this plate...in my kitchen...in my house with a..." and then they continue to mention things they want in their new house.

Walter Pigeon mistakes a magic pebble for a peanut and eats it. Busterfield tells him that the "peanut" is really a magic pebble, and Walter responds, "Yes, and it was delicious! I wish there was a million more of 'em!" Guess what happens next.

Would Hit a Girl: Played for laughs. During the song "That Ram is On the Run", the ram (not ewe) knocks over both Marmy Smartypants and the female singer who is singing the song.
Yank the Dog's Chain: The premise of almost every Cliff Hanger book, ever. Cliff gets off the cliff, but ends up back on.
---