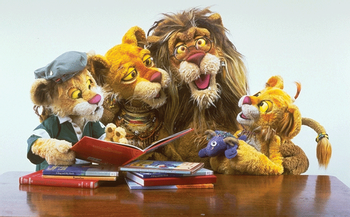 Between The Lions was a PBS Kids show with puppet/marionette animal characters designed to teach reading. As the title suggests, the main characters are a family of lions who live in a library. The series, produced by WGBH Boston, Sirius Thinking, Ltd. in New York City, and Mississippi Public Broadcasting (the latter PBS station co-producing from 2005-2010), ran from April 3, 2000 until November 22, 2010.
The series was known to have a writing team who sometimes forget that this is an Edutainment show and made it far too amusing to watch, be the age group younger or older. There were also a lot of jabs at famous children's novels, such as Dick and Jane becoming "Chicken Jane".
Yes, it's just as silly as it sounds.
---
Tropes include the following:
---