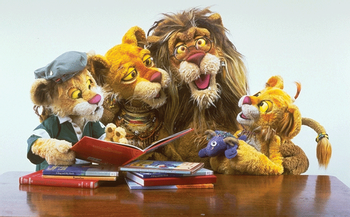 Between The Lions is a PBS Kids show with puppet/marionette animal characters designed to teach reading. As the title suggests, the main characters are a family of lions who live in a library. The series, produced by WGBH Boston, Sirius Thinking, Ltd. in New York City, and Mississippi Public Broadcasting (the latter PBS station co-producing from 2005-2010), ran from April 3, 2000 until November 22, 2010.
The series was known to have a writing team who sometimes forget that this is an Edutainment show and made it far too amusing to watch, be the age group younger or older. There are also a lot of jabs at famous children's books, such as Dick and Jane becoming "Chicken Jane".
Yes, it's just as silly as it sounds.
---
Tropes include the following:
Adaptation Species Change: Rumpelstiltskin is not an elf, but a troll.
An Aesop:

A variation involving a spelling lesson rather than a moral lesson: one Dr. Nitwhite sketch has him appear on a talk show, discussing his discovery that the letters "EA" always make the "long E" sound, which is what kids are usually taught in schools. The host's response? "That's really great."
The story "The Queen who Wanted to Touch the Moon" is a complete inversion of the usual aesop about determination. Because of her determination to touch the moon,

the queen ended up falling to her death.

It just goes to show that there is a difference between giving up and knowing when to turn back.
Gus' introductory episode has him struggling with reading and writing because of an unidentified learning difference. The lions teach him that learning to read takes time and if you work at it harder, you'll get there. With many schools having special classes for dyslexia, it has aged pretty well.
"Little Big Mouse" has Click learn that even if you may feel unappreciated or insignificant, even the smallest thing you do can make a big difference.
It goes without saying that the moral of "Pandora's Box" is not only "Curiosity killed the cat" but that "Great misfortune can beget hope".
"You Can't Catch Me" has Leona not wanting to say goodbye to the Gingerbread Man because of him getting eaten and on her birthday. Her parents sing her a song about how saying goodbye to someone we love is inevitable, but it doesn't mean that person has to truly leave, because we can still remember all the great things we learned from them and the times we've had together.
The song, "A Good Sad Book" features Theo teaching us how even the saddest things can make us feel better. It may be hard to handle emotional material in books, movies or television shows, but it can help us appreciate what we have.
In the same episode, Leona is dissatisfied with the tragic story of "The King and the Hawk", but after she snaps at Lionel, comes out of the experience learning two important lessons. First, the book (In-Universe) teaches her that you shouldn't lash out at somebody who's just trying to help you. Second, it's unfair to write off a story for being bad because it had a tragic ending. Sometimes, such stories are meant to teach you lessons that happy stories can't.
In the episode about "Rats", the two-part storybook about the rats of Ireland has a two-fold lesson about name-calling. The first half of the story teaches that name-calling can deeply hurt other people's feelings, even change how someone views themselves (something Leona could attest to). However, the second half of the story teaches that even though it hurts to be called names, never forget that such names aren't always true about who you are. Name-calling shouldn't stop you from being yourself or from doing what you love.
"The Good Seed" explores the simple lesson that honesty is the best policy, and as long as you've done your best, you've done enough. This is paralleled when Lionel tries to be a librarian for a day, only to accidentally infect the library's computer systems with a virus.
"The Boy who cried Wolf" classically presents the moral that you shouldn't needlessly cry for help unless you really need help.
"Five, Six and Thistle Sticks" has Lionel and Lenny read a book towards the end that teaches the two that just because two friends have different interests doesn't mean they have to end their friendship.
"But Mama But..." explores that it's okay to miss your mother, even if you're grown or independent.
"The Chess Mess" is about Theo teaching his children that winning or losing shouldn't effect how you enjoy the game. What's important is having fun, regardless of the game's outcome.

All Just a Dream:

Lionel's antlers turned out to be just that... to Leona.

There's at least one Cliff Hanger installment where Cliff wishes upon a star to be rescued from the cliff, after which the singers in the helicopter finally rescue him...only for the segment to reveal itself to be a dream, to Cliff's surprise...and later chagrin as he is still hanging from that cliff.

Narrator: (as Cliff climbs the ladder dropped for him by the singers)

Can all be well thanks to Cliff's wistful wish?

Cliff:

That's easy for you to say...

Narrator:

No, it is only a dream!

(cue Cliff waking up; still hanging from the cliff) Cliff: A...dream...? (grips the tree root again)

"

AND THAT'S WHY HE'S CALLED CLIFF HANGER!!

"
Yank the Dog's Chain: The premise of almost every Cliff Hanger book, ever. Cliff gets off the cliff, but ends up back on.
---