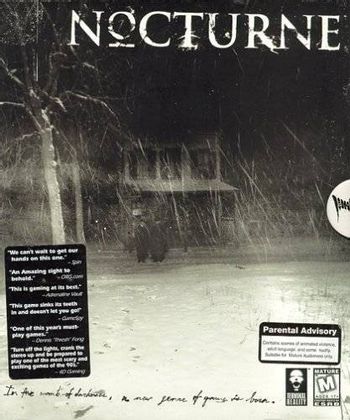 Nocturne is a PC survival-horror game released in 1999, made by Terminal Reality (those folks behind BloodRayne).
Set in the 1920s to the 1930s, Spookhouse is a government-funded organization, started by Teddy Roosevelt, which deals with the occult and monsters, such as vampires, werewolves, Frankenstein's monster-esque mobsters, and dark rituals performed in caverns under small towns. It happens. You play as the mysterious Stranger, a man who likes no one, but hates monsters. Joining him are:
Colonel Hapscomb – A former colonel in the Army, Hapscomb is the vice director of the Spookhouse. He gives you the missions. Also, he's hook-handed and wears an eyepatch!
Svetlana Lupescu – A sexy half-vampire with whom Stranger has varying degrees of tension, due to her half-monster nature. However, she is a strong and very capable agent, which has earned her a place as one of the top operatives of Spookhouse.
Khen Rigzin – A wise old man who was a Tibetan monk. He teaches Martial Arts to the Spookhouse members.
Moloch - A demon rejected by both heaven and hell, who helped Spookhouse with a mission, though his reasons were to destroy the demon who had cast him out of Hell centuries before. He takes the human form of a Gentleman Adventurer, but he can change into a giant demon whenever needed.
Scat Dazzle – A voodoo expert possessed by Baron Samedi. Whenever Scat dies, the Baron can be summoned to revive him. Scat has died a lot.
Hiram Mottra - Medic and man of documents, Hiram is a nervous and husky fellow who can sense people's aggression, especially if it's toward him.
Elspeth "Doc" Holliday - Sexy and a bit of a snark, she's Spookhouse's top scientist, supplying Stranger with weapons and ammo to face anything. She likes testing her new equipment in the field.
Vicenzo "Icepick" Gasparro – An undercover agent who was once an enforcer for a Mafia family, he was "sold" to a mad scientist, where he was turned into a giant, lumbering stitched-together zombie. Despite this, Vicenzo remains a nice fellow, with a bit of a temper.
Cutting edge and beautiful for its time, Nocturne made use of dramatic camera angles in each area, though this was more fashion than function. It also made great use of ambient sounds for its time, along with various sinister public domain tracks.
Unlike almost all other games in the genre, Nocturne uses 360 degree aiming with the mouse (similar to a First-Person Shooter), instead of the standard "rotate along a fixed plane" used by the likes of the early Resident Evil or Alone in the Dark games. This allows a very high degree of free aiming, but can be disorienting due to the game's 3rd person perspective.
The game birthed a spin-off series of games based on The Blair Witch Project, of all things, as well as the significantly more popular console action series, BloodRayne. Unfortunately, the story of Spookhouse itself and the Stranger were never revisited by Terminal Reality (largely due to their assimilation by Majesco), despite the game ending on the mother of all cliffhanger endings.
Not to be confused with Shin Megami Tensei III: Nocturne, though this game is why the game is known as "Lucifer's Call" in Europe. It's also not to be confused with the 2002 freeware Japanese RPG. Or with the 2007 French/Spanish animated film Nocturna, for that matter.
Tropes present in this game:
---