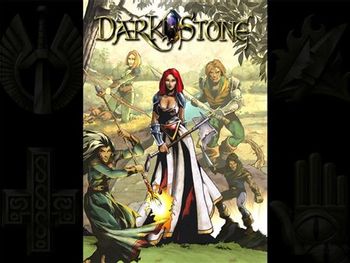 Darkstone
is a role-playing game for the
PC
and
PlayStation
, created by
Delphine Software International
in 2001. It was one of the earlier
Diablo
clone action RPGs to use fully polygonal graphics - technology that would eventually be adopted by many developers, including the creator(s) of the genre codifier themselves.
In the land of Uma, a corrupt monk named Draak turned against Kaliba, the goddess of light, and cast his shadow over the land. The goddess shed seven crystal tears, which were joined together to form a relic called the Time Orb. With this, the other monks of Kaliba were able to stop Draak from destroying the world. To protect it from Draak's followers, the Time Orb was then split up into the seven tears, known as the Crystals of Virtue, and these were hidden throughout the four lands of Uma. They can only be collected and reassembled by one of the Pure of Heart.
Now Draak is regaining strength, thanks to a foul creation called the Darkstone. This monstrosity is slowly draining the life energy from the people of Uma, and as they grow weaker, Draak grows stronger. As one of the Pure of Heart, it is your task to acquire the seven Crystals of Virtue in order to reforge the Time Orb and destroy him forever. To do this, you must visit seven dungeons throughout the four lands of Uma and solve the quests affiliated with those dungeons, then make your way to Draak's lair (the eighth dungeon) and defeat him in battle. There are more than twenty such quests of varying difficulty, randomly selected when a game is started.
Darkstone offers standard RPG classes, four male and four female. The males are Warriors, Wizards, Assassins and Monks; the corresponding females are Amazons, Sorceresses, Thieves and Priestesses. The PC version of the game has an optional online multiplayer mode and gives the player the option of controlling two characters at one time, with the ability to switch between them at will. The PlayStation version, however, limits control to one player character at a time. The multiple possible quests and player characters give the game a high replay value.
---
This video game provides examples of:
---