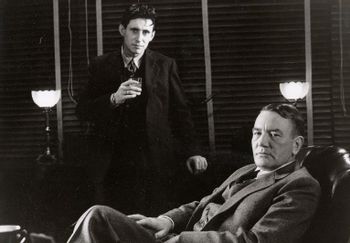 "That's you all over, Tom. A lie and no heart."
— Verna
Miller's Crossing is a 1990 darkly-comedic neo-noir gangster film loosely based on Dashiell Hammett's The Glass Key. It is directed by Joel and Ethan Coen and stars Gabriel Byrne, Albert Finney, Marcia Gay Harden, John Turturro, Jon Polito, and J.E. Freeman.
Set in 1931 in an unnamed Eastern metropolis, it's the story of Tom Reagan, The Dragon for Irish-American mob boss Liam "Leo" O'Bannon. When Leo falls for Femme Fatale Verna Bernbaum (who happens to also be sleeping with Tom), he ends up protecting her beloved brother Bernie, setting off a mob war — with Tom caught right in the middle.
The film is something of a dark horse in the Coen Brothers oeuvre. Despite being a box-office failure at its release and lacking a massive cult following or any Academy Awards, it remains one of the duo's most critically-acclaimed pieces. It's often referred to as "the other great crime movie of 1990."
---
I'll think about these tropes:
Eddie Dane, who easily sees through Tom's manipulations until Mink's death sends him into a blind rage, letting Tom turn Caspar against the Dane

.
Mood Whiplash: After the mostly comedic first half, the eponymous "Miller's Crossing" scene is pretty jarring.
More Dakka: During the siege of a Bad-Guy Bar, dozens of cops and mobsters fire their pistols at the club and one of them even unveils a water-cooled Browning M1917 machine gun. Also Leo unloading his Thompson.
Very Punchable Man: Tom is a rare (maybe unique) main character variant. He commits two overt acts of violence in the movie (hitting a Mook with a chair and

killing Bernie

). The rest of the time he's getting his ass kicked left and right — often by design.
Villain Protagonist: While none of the cast is particularly "good," Tom is easily worse than most, and his machinations make him responsible for the deaths of every character in the film other than Rug.
Vote Early, Vote Often

Leo: You know O'Doul and the Mayor, right?

Tom: I ought to, I voted for him six times last November.

Mayor: And that's not even the record.

Where the Hell Is Springfield?: It's set in an unnamed town, although it was filmed in New Orleans. However, there is a clue late in the film which points to the New York City area: Tom tells Verna to leave town and go to "the Palisades" until everything blows over. The Palisades is a stretch of rocky cliffs of Bergen County in Northern New Jersey and Rockland County of New York State.
Zero-Approval Gambit: Tom pulls several:

He deliberately alienates himself from Leo (and takes quite a few beatings in the process) in order to eliminate Leo's competition and any threats to Verna while simultaneously providing himself an exit from his life of crime. This comes at the price of losing Verna to Leo.

He

saves and (later) kills Bernie

with full knowledge that these acts won't provide him any benefit whatsoever to anyone's eyes; still he proceeds out of principle and in both times it comes to bite him in the ass.
Throughout the movie, Tom carries a gambling debt from Lazarre well aware that he will be eventually reached by his cronies. They do come to beat the crap out of him but they remind him that they'd rather not be hurting him because they (and Lazarre himself) actually like him.
Curiously, the biggest gambits in the movie come from everyone who underestimates Tom. Even Dane falls victim to his machinations.
---
Ok kid, you think about it. TV Tropes is a mental state
---