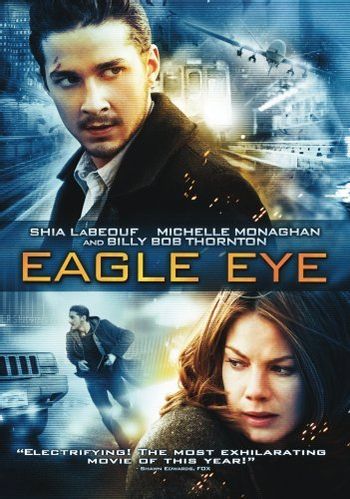 Jerry Shaw (Shia LaBeouf) is not having a good time. He's having money trouble, works a dead-end job at the Copy Cabana and then his twin brother Ethan dies in the line of duty. He returns home for the funeral, but he clearly has issues with his father over his life goals. Not much later money pops up in his bank account, an insane amount of terrorist related items are shipped to his apartment and a mysterious voice (Julianne Moore) tells him that he's been "activated." The woman on the phone starts ordering him around, giving him precise information on when the authorities are going to be arresting him. He discovers that he's a wanted man and his only real hope is to follow the woman's instructions.
Meanwhile, a woman named Rachel (Michelle Monaghan) sends her son (Cameron Boyce) off on a band trip, and has her own set of issues regarding her deadbeat ex-husband. She is similarly contacted by the woman threatening her son's life, and ordered to act as a helper for a complete stranger named Jerry.
The mysterious force behind their "activation" can follow their every move and gives them absurdly precise instructions, along with a near supernatural ability to observe and contact them through any means necessary. They struggle to follow the voice on the phone's orders, find out what is happening and why, and evade the authorities pursuing Jerry.
Eagle Eye is largely a response to concerns about privacy and domestic spying, while making it into a breakneck speed thriller.
Not to be confused with Eagle Eye Mysteries.
---
This film provides examples of:
---