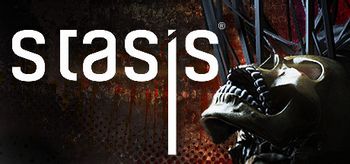 Stasis
is an isometric
Sci-Fi Horror
Adventure Game
from 2015, made by
THE BROTHERHOOD
, a South-African indie development team of two brothers. The game was funded through a successful
Kickstarter
campaign.
The Groomlake, a rundown and seemingly abandoned spacecraft, circles the lower orbit of Neptune. Constantly losing altitude, as the planet's gravity has a firm hold on the derelict ship, the vessel is constantly getting ever closer to meet an unceremonious destruction in the swirling blue methane clouds of the gas giant. However, in the bowels of the ship, a man by the name of John Maracheck stirs uneasily in his induced sleep.
Assuming the role of John, the player must help him survive as he awakens alone in the wake of a mysterious disaster that seems to have claimed the lives of most of the ship's crew and left it in a state of advanced disrepair. Determined to find his wife and daughter who is supposed to be somewhere on the ship, John sets out in a race against the clock to unravel the mysteries around him; an undertaking which will test his physical and emotional resolve.
Another game set in the same universe and set parallel to Stasis, Cayne, was released in 2017.
---
The game provides examples of:
---