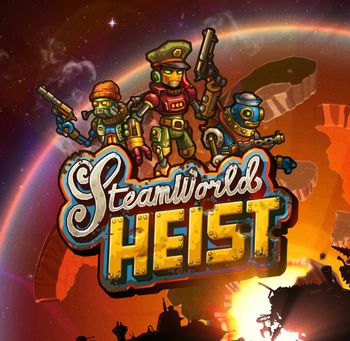 You know a brigher day's just a way ahead, what we need are some heroes
With wheels of iron and hearts in the stars
through the darkest of days, they'll ride out into the sunset
Hope overflowing, they'll construct a new day from the bad....
A Turn-Based Strategy game for the Nintendo 3DS released on December 10th, 2015, taking place in the Shared Universe as the preceding Steamworld title, SteamWorld Dig. It was later ported to Playstation 4, PlayStation Vita, Wii U, PC, Nintendo Switch, and iOS.
The Earth, as it was in Dig, is no more. Kaputski. An Earth-Shattering Kaboom has turned it into a bajillion pieces floating in space, and so the Steambots now ride their steamboats across the vastness of the Cosmos and squabble over the precious resources from its pieces.
The player takes command of space pirate captain Piper Faraday, and will lead her and her ever-growing crew into battle - first against the maniacal Scrappers that killed most of her old crew, and then against the Queen's Royal Space Force, the oppressive diesel-powered water-independent aggressors that they are.
The game utilizes a side-view akin to a side-scroller but handles similarly to the rebooted XCOM in terms of equipment, movement, cover and combat phases.
In April 28, 2016, The Outsider DLC expansion was released. It included the titular crew member, as well as new missions, new weapons and oh so many new hats.
---
This game contains examples of the following:
---