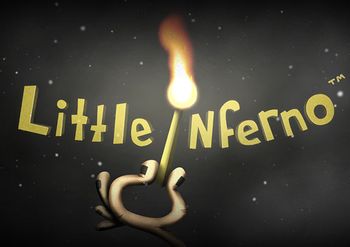 It's Little Inferno, it's Little Inferno just for meeee!
Little Inferno is an indie sandbox game made by Tomorrow Corporation for iPad, Steam, Wii U, and Nintendo Switch.
The game takes place in a freezing world, one that is getting inexplicably colder with every passing day. As a solution, the sinister Tomorrow Corporation sells the Little Inferno Entertainment Fireplace. All that is needed are some things to burn, and a couple of complimentary catalogs, given to the player at the start.
The story is told via a series of letters sent from different characters you meet along the way: Sugar Plumps, a little girl who is in the same situation as you, a pen-pal named Miss Nancy, an employee from Tomorrow Corporation, a figure called The Weather Man, and a mysterious figure. Throughout the game, you burn items and spiders that crawl through the fireplace, get coins, then buy and unlock various new things to burn from the aforementioned catalogs. True to the real world, you have to wait for the items to arrive, but usually do not surpass a minute, and can be sped up with stamps that are collected from burning things. There is also a combo system in place that is sometimes required to move on to unlock the next catalogue. The combos are fairly easy to figure out; for instance, Alarm Clock + Instant Seed Packet = "Springtime".
Tomorrow Corporation started looking into modding
in late 2012. The soundtrack is available here,
and the fansite is here.
In November of 2022, the Ho Ho Holiday expansion was announced
, adding new story content, toys, combos, and more. The expansion was released on PC, Mac, Linux, Switch, iOS, and Android.
---
Little Inferno provides examples of:
Company Cameo: Tomorrow Corporation created this game, which features an in-universe company also named the Tomorrow Corporation, the latter being the ones that created the Little Inferno Entertainment Fireplace that forms the crux of the game.
Cool Down: Some items need a little time to restock.
---
It's little Trope-ferno just for me!
*Head Explodes*