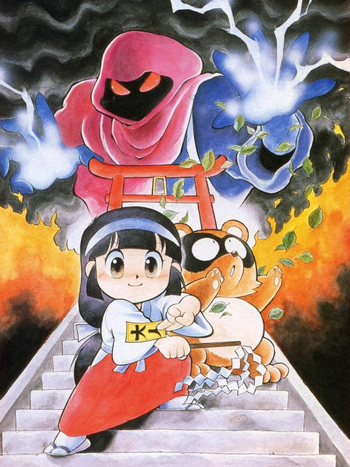 Kiki Kai Kai
(奇々怪界) is a relatively obscure arcade game made by
Taito
in 1986 in Japan. It features a young
Miko
named Sayo who has to save the
Seven Lucky Gods
and the boat they were in from
various odd creatures
out to kill you
with Rapid-fire Ofuda and a Gohei. It was re-released in
Taito Legends 2
(all versions).
Come 1993, a SNES game featuring little Sayo-chan and Manuke, a leaf-throwing Tanuki is released in the west as Pocky & Rocky.
The whole series has 6 games in total:
Kiki Kai Kai (Arcade, 1986)
Kiki Kai Kai Doutou Hen (Famicom Disk System, 1987), an obscure Metroidvania-ish remake of the first game. First game to feature Miki, a green version of Sayo.
Kiki Kai Kai: Nazo no Kuro Manto / Pocky & Rocky (SNES, 1992 in Japan, 1993 in the west) First game released in the west and first Co-op game of the series. Sayo is Pocky, Manuke is Rocky. Developed & published by Natsume.
Kiki Kai Kai Tsukiyozoushi / Pocky & Rocky 2 (SNES, 1994) This game features changeable sidekicks instead of two equal characters. Also developed & published by Natsume.
Kiki Kai Kai Advance / Pocky & Rocky with Becky (GBA, 2001) (Kind of a) Remake of the First game. Developed by Altron, but still published by Natsume in the U.S.; Miki is renamed to Becky to keep the naming scheme.
Kiki Kaikai: Kuro Mantle no Nazo / Pocky & Rocky Reshrined (Nintendo Switch and Sony PlayStation 4, scheduled for release on April 21st, 2022)
The series also have a Spiritual Successor with Heavenly Guardian, which is the result of the developers losing the license after Taito was bought out by Square Enix.
If "奇々怪界" is put into Google Translate, it translates to "bizarre mysterious world"... we'll let you decide what to make of it.
---
Provides examples of:
Advertised Extra: In Reshrined, Ikazuchi and Hotaru Gozen are prominently featured on the game's box art and trailer, but the Story Mode only has one of them appear in Stage 5 and switches between them on each playthrough, leaving the other to never even be mentioned.
American Kirby Is Hardcore: Averted with the original Pocky & Rocky (though the box design was almost completely different from the in-game design). Sure enough, however, by 1994 the Western box art for Pocky & Rocky 2 has the characters looking less cute and much angrier.
---