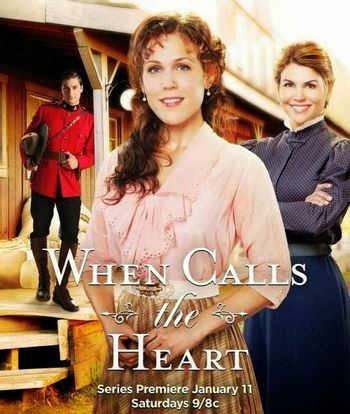 When Calls the Heart is a 2014 Hallmark Channel series based on Janette Oke's Canadian West series. It stars Erin Krakow as Elizabeth Thatcher, Daniel Lissing as Jack Thornton, and Lori Loughlin as Abigail Stanton.
The show premiered on Hallmark as a two-hour pilot film in October 2013. That film featured Maggie Grace as Elizabeth, but the role was re-cast with Krakow when it was picked up as a series.
Set in 1910, Elizabeth Thatcher is a young teacher from an upper-class Canadian family who travels to Northwest Canada to teach the children of Coal Valley, a small mining town nestled in the mountains. There she meets handsome Jack Thornton, a constable of the Northwest Mounted Police (which later became the Royal Canadian Mounted Police). The series follows their romance and the lives of the town's citizens.
Additional stars in later seasons include Kevin Mc Garry as Mountie Nathan Grant and Chris Mc Nally as saloon owner Lucas Bouchard.
In 2019, When Hope Calls, a spinoff centered around two sisters who start an orphanage in nearby Brookfield, began. It was picked up by GAC in 2021.
---
When Calls the Heart contains examples of:
---