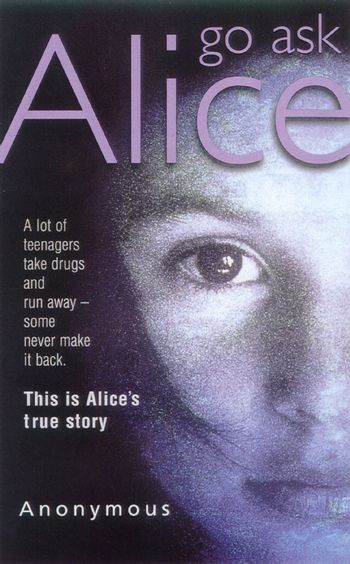 Go Ask Alice is a novel by youth counsellor Beatrice Sparks, first published in 1971. It is the story of a troubled young woman who seeks solace in drugs and the counterculture. She comes to grief as a result. It is famous for its Drugs Are Bad message, being banned for references to sex, rape and drugs, and [confirmed several times, most recently in 2022] being a fake. Rather than being a Real Life diary of a young drug addict, it is the work of Beatrice Sparks, who attempted to pass it off as true for a number of years. It is classic School Study Media.
The novel is a dark Coming of Age Story. The work takes the form of a "diary", the keeper of which is not named. Readers usually call her Alice, from the title, or Carla, based on a remark she drops late in the story.note Rick Emerson, author of Unmask Alice which reveals the details of Sparks' deceptive practices, found the real woman alive and well and calls her Brenda March, but emphasizes that's not her real name either. She's a sensitive fifteen-year-old girl, alienated from her conservative parents and initially with few friends, having just moved to a new town. When she does start making friends and discovers the The '60s counterculture, she also encounters drugs. Her first experience is benign: she is unwittingly given LSD at her friend Jill's birthday party and has a pleasant trip.
Losing her virginity while on LSD, she feels guilty about this and her drug use. With female friend Chris she takes to dealing drugs for their respective boyfriends. Upon discovering said boyfriends having sex with each other, they leave for San Francisco, leaving their families as well. (Drugs apparently make you gay as well
, although the narrator has already had romantic feelings towards women before trying drugs. Horrors!!!)
In San Francisco, they move into a small apartment and get jobs. Their vow to stay clean does not last—in fact, they use harder drugs. While on heroin at a party, both girls are raped. They return home for Christmas, again vow to stay off drugs, again relapse, and this time are busted and our heroine gets probation. Running away again she spends the next few weeks in a drug-induced haze skirting along the West Coast. In her sober moments, she is horrified at what she's become and again returns home, determined to stay off drugs for real this time. However, she's now harassed by her former stoner friends who accuse her of being a "fink" and frame her for drug possession. After inadvertently ingesting acid (planted by her former friends) and suffering a nearly-fatal bad trip, the narrator is sent to an asylum, where she sorta bonds with a younger and even more broken girl named Babbie.
The portrayal of Sixties drug culture (and "hippie" references) is limited, and in fact laughably inaccurate. Tellingly, The Vietnam War, Civil Rights Movement, general political protest and music are scarcely mentioned. It works best as a critique of the hedonistic excesses of the psychedelic movement. As a "warning work," it has similarities to Requiem for a Dream. It has a similar theme of disenchanted youth going off the rails as is found in The Catcher in the Rye.
Adapted into a 1973 Made-for-TV Movie starring William Shatner, Andy Griffith, and (ironically given her own drug use at the time) Mackenzie Phillips, among others.
In 2022, Rick Emerson published a book, Unmask Alice
, which reveals the truth about this classic literary hoax
and about the real tragedy behind her later work, Jay's Journal. Sparks was a Mormon youth counselor hellbent on Being Somebody, and she didn't care what lies she had to tell or whose memories she had to destroy to get there.
If you are looking for the trope that used to have this name, please see Alice Allusion.
---
Go Ask Alice provides examples of these tropes:
---