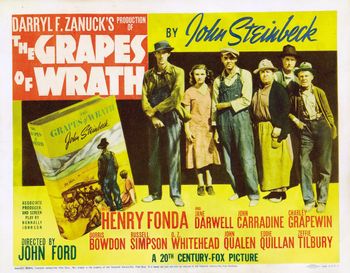 "Wherever they's a fight so hungry people can eat, I'll be there. Wherever they's a cop beatin' up a guy, I'll be there. If Casy knowed, why, I'll be in the way guys yell when they're mad an' — I'll be in the way kids laugh when they're hungry an' they know supper's ready. And when our folks eat the stuff they raise an' live in the houses they build — why, I'll be there."
—Tom Joad
A 1939 novel by John Steinbeck, winner of the 1940 Pulitzer Prize. The book makes a strong political statement (of the social liberal kind), and is pretty much the antithesis of anything by Ayn Rand. The story follows the Joads, a poor family from Oklahoma hit by the dust bowl that travel all the way to California (losing the grandparents along the way) to find jobs on farms. Sadly, they discover that work conditions are horrid and farms are overpopulated and people are paid poorly. The content and themes of The Grapes of Wrath made it very controversial in its day, and it remains divisive more than eight decades after its publication. What isn't denied is that the novel was extremely influential.
Adapted into a film only a year after it was published. It was directed by John Ford and starred Henry Fonda, in what is considered to be among the finest works from both legends. Ford regular John Carradine also appeared in the film, while Jane Darwell earned the Best Supporting Actress Academy Award for her performance as Ma Joad. The movie was considered to be the Great American Film before Citizen Kane was rediscovered in the late '50s. Steinbeck himself considered it an improvement on his book. Also adapted into a play in 1988. The Steppenwolf Theater's 1990 version starring Gary Sinise and Lois Smith was filmed and aired on PBS's American Playhouse on March 22, 1991.
---
Tropes:
---
Tropes unique to the 1940 film:
Adaptational Alternate Ending: The film cuts out the book's ending, where Rose of Sharon's baby ends up stillborn and she ultimately breastfeeds a man dying of starvation, instead choosing to end the story with Tom's departure from his family and his promise to act as a force for social justice.
Chiaroscuro: A gorgeous example in the scene early in the film where Tom comes to his family's home after dark, finds it abandoned, and goes looking around with only a single candle to light the scene.
Chuck Cunningham Syndrome: Noah Joad. In the book, he decides he cares more about the river the family stops by than the family cares for him and leaves; in the movie, the scene is still present but the aforementioned part is not, and Noah simply vanishes.
---