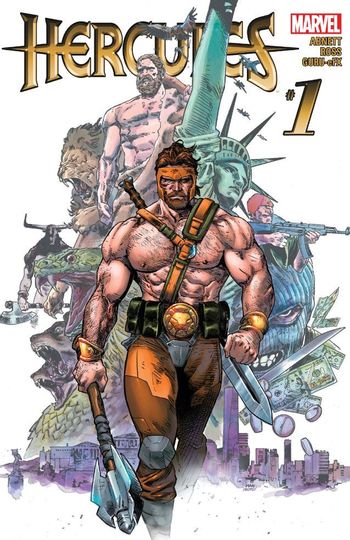 Hercules (2015) is the third ongoing series (and tenth series overall) featuring the Marvel Comics incarnation of the legendary classical hero Hercules, the god of strength, heroism and masculinity.
This series, written by Dan Abnett, marks a radical departure from Hercules's portrayal for the past fifty years of publication. In the kindest words, Hercules has always been a second-string character and mostly seen as a Boisterous Bruiser, Handsome Lech, Blood Knight, and drunkard both in-and-out-of-universe. In this series, Hercules decides that he's tired of playing around and decides to get down to serious business being a hero and to remind the world that he was one of its "first" superheroes. As such, he starts a heroic mercenary business where he is called upon to solve problems that most beings cannot.
In addition to his new attitude, Herc got a new look, including a more practical upgrade to his usual outfit, as well as an arsenal of modern weaponry to use.
He'll need them, because something has the various mythological and magical entities of the Marvel universe spooked, and it may be up to Herc to find out what's going on before it causes The End of the World as We Know It.
For more information, see the The Incredible Hercules page.
---
This series contains the following tropes:
---