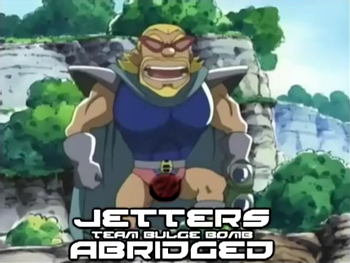 3! 2! 1! 0! NO MOUTH, FRACTIONS, MAN WITH NO PANTS! BIRD, ARMADILLO AND MOUSE-ROBOT! FIRE IN ENGLISH IS CALLED "FIRE"! RIDING ON THE BACK OF A DUCK-BUNNY! BUUUUULGE BOOOOOMB!!!
"Bulge Bomb", Title Theme
Jetters Abridged was an Abridged Series of the Bomberman Jetters anime. It was created by ThornBrain of Sgt. Frog Abridged, and written and voiced with fellow MidnightFrogs BigTUnit1 and codeblackhayate as Team Bulge Bomb
. It has been on indefinite hiatus since 2014 with no likelihood of a return.
Shiro is a young Bomberman whose brother, "the legendary Bomberman" Mighty, disappears suddenly after the first episode and is presumed dead. Shiro takes up Mighty's position in the Jetters, an intergalactic crime-fighting team pitched against the outrageous thief organization, the Hige-Hige Bandits, all while sorting out his issues with his late Jerkass brother, and slowly losing his mind when he realizes Mighty might not be dead. Shiro's teammates include the easily irritated Shout, the doddering old scientist Dr. Ein, the Cloud Cuckoolander extraordinaire Birdy, and the unloved and useless pair of Bongo and Gangu.
On the opposite end, Mujoe is the incompetent but sympathetic captain of the Hige Hige Bandits who must deal every day with a useless robot workforce, his alcoholic father/boss Bagular, unrequited love for the local bartender Mama, and a massive crotch bulge that makes everything he says sound wrong. His teammates are the Mad Scientist Dr. Mechadoc, an army of the group's namesake robots who only speak in "Hige's", the one Hige with a deep voice who speaks English, and the mysterious cyborg Max.
Where the original series is largely a Monster of the Week kid's cartoon with lots of Character Development, Jetters Abridged revels in its sheer insane ridiculousness. Character personalities and motivations are flipped on their heads, relationships are thrown around for the hell of it, and Birdy talks.
The series did not have a consistent update schedule, to the point of it becoming a running joke outside the series. Episode 3 was released on November 30th, 2011, Episode 4 the next year on September 3, Episode 5 the next year on June 21 and Episode 6 on Valentine's Day, 2014. There were plans to resume Jetters with a consistent schedule following Sgt. Frog Abridged's conclusion in December 2015, but TheMidnightFrogs going into indefinite hiatus, and Thorn and Travis concluding their working partnership for the foreseeable future due to Travis' hectic life, put that idea to rest.
---
This series provides examples of:
---