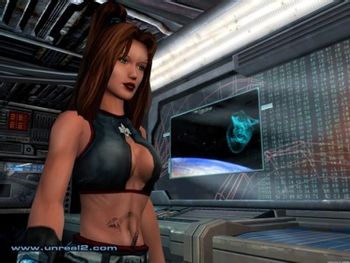 "As earth expands in this sector of space, different corporations are establishing colonies on uninhabited planets. They do everything from creating vacation resorts, to mining exotic ores, to terraforming. We in the Terran Colonial Authority patrol between the planets to keep the peace. The corporations try to get away with a lot out here, and they hire mercenary forces to help them get their way. We often find ourselves fighting the mercs to defend civilians who work for their own corporation. If we run into something we can't take on alone, we call in the marines."
The first Unreal was well received, but it was Unreal Tournament the game which made the franchise famous all around the world. Epic Games decided that the next step should be taken by another company, and thus, Legend Entertainment made the next game of the franchise.
This game was Unreal 2: The Awakening, released for PC and Xbox in 2002.
In the game, the player takes the role of John Dalton, an ex-marine "space marshall" on a ship maintained by a small crew: Aida, his stripperiffic first officer; Isaak, his gruff weapons expert/engineer; and Ne-Ban, his Alien pilot. He's sent on a mission to find various ancient artifacts of extreme power which are also being hunted by various other factions and races.
The game focused on more story-driven set-piece laden linear levels and lots of character interaction, as well as pitting you against Humans for the majority of the game, with the only link to the original being a few cameos and battles against the Skaarj and armored versions of them, called Mecha-Skaarj, in the first two levels and the second-to-last level of the game. Its place in the Unreal timeline is set between the first Tournament game and Return To Na Pali.
The game was not well received, due to these changes, almost complete failure to deliver promises from early blurbs of the game, and being regarded as an average and somewhat derivative FPS even for the time. Perhaps, in part, to this, the SP side of the Unreal world has not been explored since then, although Epic Games have dropped some hints they may be willing to work on a sequel in the future.
---
See also
---
Recurring tropes for the series include:
Tropes exclusive to U2 include:
---