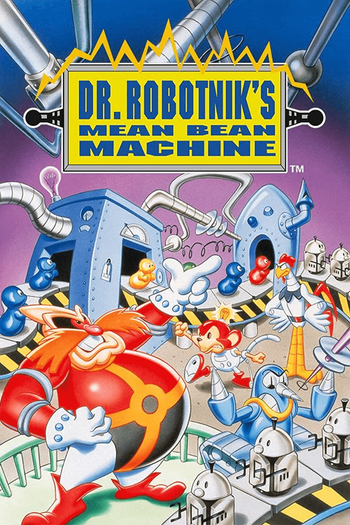 "Witness my evil dream to rid Mobius of music and fun forever. My latest invention, the mean bean-steaming machine will not only dispose of those fun-loving jolly beans of Beanville, but turn them into robot slaves to serve my evil purposes. Robots. Bring me those beans."
—Dr. Robotnik in the opening cutscene
Dr. Robotnik's Mean Bean Machine is an 1993 Sega Genesis video game. It is an interesting Spin-Off of the Sonic the Hedgehog series, or in this case, a spinoff of DiC's Adventures of Sonic the Hedgehog cartoon series. Wheras most Sonic games are typical platformers, this game is, of all things, a puzzle game. Specifically, it is an American mock-up of the Japanese puzzle classic Puyo Puyo, in particular the 1992 arcade game.
The plot is centered around Dr. Robotnik, who, in an attempt to guarantee no fun or music on Mobius, kidnaps the citizens of Beanville to be thrown into the eponymous Mean Bean-Steaming Machine, to be converted into robotic slaves for the doctor. It's up to you, the player, to take up the noble deed of bringing down Dr. Robotnik's scheme, but not before beating his twelve mooks in their bean puzzle games!
Despite getting top billing, you do not get to play as Dr. Robotnik in this game— that came later. It would be another few years before he would be playable in Sonic Adventure 2.
While not canon to current Sonic lore, the game hasn't exactly been forgotten, with references to the good doctor's messing around with beans cropping back up from time to time. For example, the boss fight of Chemical Plant Zone in Sonic Mania is a match of Puyo Puyo against Eggman (with a more traditional version available to unlock) and Sonic himself would eventually star in a Puyo-Puyo game upon being added to Puyo Puyo Tetris 2 as DLC in 2021. Furthermore, Sonic the Hedgehog 2 (2022) also contains an allusion to this game, with Agent Stone working at a coffee shop named the "Mean Bean Coffee Company".
Compare Sonic Spinball, which is a Spin-Off game very loosely based on Sonic the Hedgehog (SatAM). Also compare Kirby's Avalanche for the SNES, which was another Puyo Puyo mockup.
---
Robots! Bring me these Tropes!
---