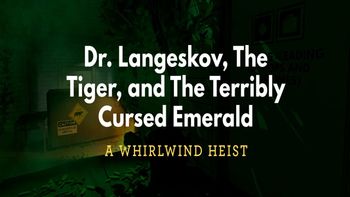 Released in 2015 by Crows Crows Crows, an independent studio founded by William Pugh of
The Stanley Parable
fame (
not that that'll be significant to this game
),
Dr Langeskov, The Tiger and the Terribly Cursed Emerald: A Whirlwind Heist
is a nail-biting, pulse-pounding action game where the player takes on the role of a master thief on the hunt for a cursed emerald... all the while trying not to get eaten by the tiger. Mustn't forget the tiger.
The game was released on Steam for free, and you can try it out here
. Go on, play it now, then come back, lest you fall victim to massive spoilers!
Seriously, literally nothing about this game can be discussed without spoiling the surprise!
---
This game contains examples of:
---