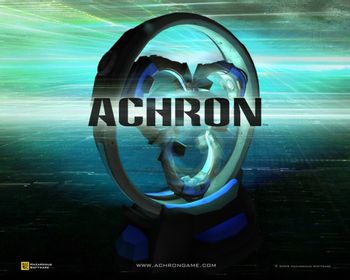 "Paradox resolution in my favor. All right. Take that causality!"
—Shadowfury333
Achron refers to itself as the first "Meta Time Strategy Game," i.e. it uses Time Travel as a functional game mechanic. It's possible to issue commands to units in the recent past or near future, and even send them to different times.
In additional to the standard real-time strategy user interface, players have access to the Time Window, which lets them track, switch perspective to, and order units to time travel to various points in the game timeline.
Only a small segment of the timeline is actually playable: a range that usually extends from around 6 minutes in the past up to approximately 1 minute in the future. Any events that pass beyond the past edge of the playable timeframe are finalized and cannot be changed.
'Timewaves' are regularly spawned at the event horizon between the mutable and immutable sections of the timeline. These progress up the timeline at high relative 'speed' (default settings have it at 3.1 seconds / second), carrying changes to the timeline with them. Players also act as ad-hoc timewaves, propagating any changes they observe.
A trailer can be seen here.
Information on the game and ordering can be found at achrongame.com
and also on Steam.
There is also a helpful wiki.
Additionally, there is a small demo version of the game.
Not to be confused with Archon.
---
This game provides examples of...
open/close all folders
Time Travel Tropes
Time Travel
: Basically the
entire point of the game
.
Players can control the rate they move through time. This leads to:

Time Stands Still: Usually used to set up a complex queue of orders for some units while making sure they hold still.
Bullet Time: Used to better micromanage battles.
Adrenaline Time: Extension of bullet time: since players tend to slow down during pitch battles and then speed up after the battle to 'make up for lost time', a lot of ramping occurs.

Causality Mechanic: Every change you make is kept track of and propagated via timewaves (see below).
Delayed Ripple Effect: A gameplay necessity, since if changes to the timeline were instantaneous, games would basically boil down to who sent something to the past first. Timewaves typically travel at three times the speed of time.
For Want of a Nail / In Spite of a Nail: An important part of the unit AI is to ensure player orders happen on every iteration of the timeline when reasonable (i.e. when your opponent isn't actively interfering), so that players don't get frustrated because all of their changes to the past keep undoing everything they've already ordered. Ensuring that one's strategy as a whole happens despite the interference of opponents, while also interfering with their strategies before they come to fruition, is a key component of the metagame.
Future Shadowing: Standard multiplayer game mechanic. There's also a commonly used tactic based on this called "echo scouting" where a player orders a scout to rush into the enemy's base, speeds up time to see what the scout will find, then skips back to the present and tells the scout to cancel its suicide order in the first place.
Grandfather Paradox: It's possible to build a mech, send it back in time, and have used it to have destroyed the factory that was going to have built it. The devs' explanation of how this works out.
Temporal Paradox: Why should the Grandfather Paradox get all the love? Ontological paradoxes occur pretty often too.
Just One Second Out of Sync:

This trope occurs in a tactic called "Timewave Dodging". If a unit dies in the past, any passing timewaves will propagate its nonexistence into the present. By time traveling it right across the approaching timewave, you can prevent it from being erased from existence. Weirdly enough, you're not hiding from other time travelers; you're hiding from causality itself!
In a more straight play on the trope you can play one second in the past - you will be able to see your opponent's actions, but he won't see what you're doing until a timewave passes.

Meanwhile, in the Future…: You can watch and issue commands from any point within a short interval, so it's possible to, say, attack your opponent in the present in order to distract them from an attack that you're about to have begun a minute earlier.
Mental Time Travel: Your primary ability as an Achron. Explained in the campaign as a cross-temporal radio.
My Future Self and Me: Ever-present occupational hazard for any soldiers in this game. The duplicates are referred to as 'chronoclones'. Can often lead to...
My Own Grampa: The Grekim are able to pull this off in gameplay (see here for directions how). It has little practical use though, so it doesn't happen often.
Help Your Self In The Future: You can send units from the future to help their past selves defend the base.
Place Beyond Time: A really strange version of it, at least. There's a section of the timeline that's hard to reach if you don't already know of its existence; a completely empty version of the map you're playing; a region in the future where causality from the present never reached. This is probably the only mechanical version of the Place Beyond Time (other video games simply create an extra, perfectly normal level and give it some backstory).

It's also completely emergent from the timeline mechanics in such a way that the creators probably didn't foresee its existence. This feature was kept in, as it has a few strategic consequences (it's possible to smuggle units across hostile borders by shunting them through the Beach).
To elaborate on the mechanics, the Beach is the very front edge of the timeline: Stuff that has scrolled onto the timeline but has not been touched by a timewave. In the space between 2 timewaves (50 real-time seconds), that area is "beyond time." After 50 real-time seconds, the predictable happens.

Real-Time with Pause: In multiplayer, no less. Bonus points for it being an actual ability as opposed to a medium mechanic.
Reset Button: You can undo botched attacks.
Ret-Gone: Yet another occupational hazard for your forces.
Retroactive Preparation: A very basic tactic in game.
Ripple Effect Indicator: Various symbols on the timeline are used to indicate various events happening.
Ripple Effect-Proof Memory: Achrons. The game makes a strong distinction between entities that exist inside and outside time (chronals and achronals respectively). You're a general precisely because of your ability to exist outside the time stream and effect changes to it without being personally affected by it.
San Dimas Time: The way time travel works actually does a pretty good job of justifying this.
Scry vs. Scry: Future-sighting, cancelling your orders in the past, creating red herrings to confuse your opponent's future-sighting and cancelling...
Set Right What Once Went Wrong: An elementary tactic in the game. Which naturally leads to...
Make Wrong What Once Went Right: ... the dual of the above tactic.
Stable Time Loop: You can defend your factories with units that they are going to build.
Tele-Frag: Impossible with teleportation. Entirely too easy with time travel.
Temporal Sickness: Units glow softly right after you chronoport them. They're perfectly functional, with the one exception being that they cannot chronoport again until the effect wears off. The effect has thus earned the nickname "rechronoport delay".
Terminator Twosome: Your standard two-player game.
Time Is Dangerous: You need to be careful when sending units back in time that they don't end up occupying the same space as another unit. Especially their past selves.
Time Master: The titular achrons.
Time-Travel Tense Trouble: The fans refer to the two orthogonal timelines as "time" (in-game time) and "metatime" (real-life time). Once you hang around the community long enough, it becomes second nature.
RTS Tropes
Story
Miscellaneous
---