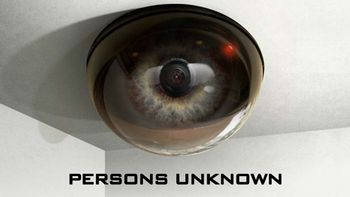 Persons Unknown
was a mystery drama
Mini Series
airing on NBC between June 7, 2010 and August 28th, 2010.
Janet Cooper is spending a peaceful day at the park watching her daughter Megan playing. However, after she is distracted by a private eye telling her that she has not paid full charges for him looking for her disappeared husband, she sees someone who seems to have taken off with Megan. Chasing after them, Janet is instead drugged and taken away.
Upon waking up, Janet finds herself in a locked hotel room, the only sign of her captors being a camera in the ceiling. After desperately trying to get out of the room, she is broken free by a man named Joe. They both soon learn that they are not alone in the hotel and there are five others in the same predicament. Each one has been taken with no explanation or idea as to why they are being held prisoner. After exploring the hotel, the captives find themselves in a small, pristine, and empty town, which they cannot leave.
The occupants/captives of the town are:
Other reoccurring characters are:
---
Tropes used in Persons Unknown include:
---