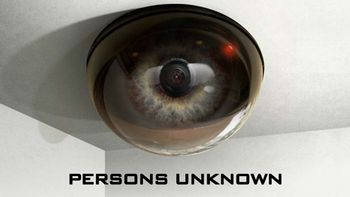 Persons Unknown
was a mystery drama
Mini Series
airing on NBC between June 7, 2010 and August 28th, 2010.
Janet Cooper is spending a peaceful day at the park watching her daughter Megan playing. However, after she is distracted by a private eye telling her that she has not paid full charges for him looking for her disappeared husband, she sees someone who seems to have taken off with Megan. Chasing after them, Janet is instead drugged and taken away.
Upon waking up, Janet finds herself in a locked hotel room, the only sign of her captors being a camera in the ceiling. After desperately trying to get out of the room, she is broken free by a man named Joe. They both soon learn that they are not alone in the hotel and there are five others in the same predicament. Each one has been taken with no explanation or idea as to why they are being held prisoner. After exploring the hotel, the captives find themselves in a small, pristine, and empty town, which they cannot leave.
The occupants/captives of the town are:
Janet Cooper: A day-care owner and single mother, whose husband left her with no explanation.
Joe Tucker: A mysterious man who seems to be taking the role of the leader of the captives. Little is known about his past as he evades the others' questions. He's also The Mole.
Sergeant Graham McNair: A fairly levelheaded Marine soldier who is Muslim. He took payment to go and kill someone whom he thought was an insurgent bomb-maker who killed three of his squadmates. As it turns out, the person he was paid to kill was just an accountant who was going to expose some corrupt dealing involving Private Military Contractors.
Moira Doherty: A rather skittish school counselor who has a knowledge of medications.

Or so she claims. It's later revealed she's a psychiatric patient with "truth issues."

Charlie Morse: The CFO of an investment firm who has a wife he describes as emotionally unstable. Well, had - he killed her though it is unclear yet whether it was a mercy killing or just murder. May or may not also have embezzled money from his father-in-law's company.
Tori Fairchild: An entitled young woman who is the daughter of an American ambassador.

First of the group to be "eliminated", she takes a taxi in the middle of the night and turns up dead in a fountain in Italy

.
Bill Blackham: A car dealer who proves to be suspicious of the others as well as being rather self-absorbed.
Erika Taylor: A mysterious woman who wakes up in the town (

apparently as a "replacement" for Tori, whose dress she's wearing when she first arrives in the town

). A former prisoner with multiple tattoos, she has a son in foster care, and was

actually on Death Row for un-named crimes, and woke up after being thinking she had been executed. Erika is in fact not her real name; it is the name of her cell mate. Her true name was revealed in "Identity" to be Theresa Randolph

.
Other reoccurring characters are:
Mark Renbe: A journalist from San Francisco, he's your intrepid reporter trying to uncover the truth behind, initially, Janet's disappearance.
Kat Damatto: Renbe's boss.
"The Night Manager": Not as creepy as his No Name Given name sounds, he presents himself as... the night manager of the hotel they wake up in. He seems to be in a similar situation as the others, not finding being told he has received a job in a hotel and suddenly waking up there very strange as he has "gotten used to it."
The staff of the Chinese restaurant: A benign group who don't seem to know anything more than anyone else about why they are there and are only meant to make sure the captives are fed.
Sam Edick: A private eye hired by Janet Cooper to find her missing husband.
Tom:

Part of the conspiracy along with Joe, he poses as the host of the Chinese restaurant the captives eat at. Speaks pretty horrible Engrish in his role as host.

Liam Ulrich: Middle-management at the conspiracy, and

Joe and Tom's boss. Replaces the first night manager after Joe kills him. Has a thing for Janet.

"Madame Director": the director of the conspiracy, and Liam's boss. Quite the Iron Lady.
---
Tropes used in Persons Unknown include:
---