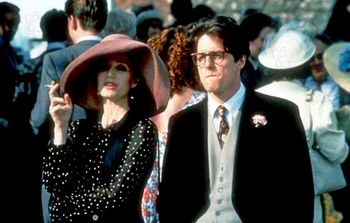 Four Weddings and a Funeral is a 1994 British romantic comedy film directed by Mike Newell, written by Richard Curtis, and starring Hugh Grant in his breakthrough role.
Charles (Grant) is a charming but gaffe-prone thirtysomething whose friends are getting married one after the other, with him as the most likely candidate to be best man. He has come to find attending weddings unbearably tedious, and he himself remains single (or, as an ex-girlfriend of his puts it, a "serial monogamist"). His circle of closest friends - his brother David (David Bower), his flatmate Scarlett (Charlotte Coleman), siblings Fiona (Kristin Scott Thomas) and Tom (James Fleet), and partners Matthew (John Hannah) and Gareth (Simon Callow) - are likewise all unmarried for various reasons.
One day, at yet another wedding, Charles meets Carrie (Andie MacDowell), and he has a one-night stand with her. When he meets her again at another wedding, he begins to think she might be the right one. Unfortunately, she's now engaged to someone else...
A one-off special catching up with the characters 25 years later, entitled "One Red Nose Day and a Wedding", aired as part of 2019's Comic Relief telethon. An American miniseries based on the film with the same name was released that year from Hulu as well.
---
The film contains examples of:
---