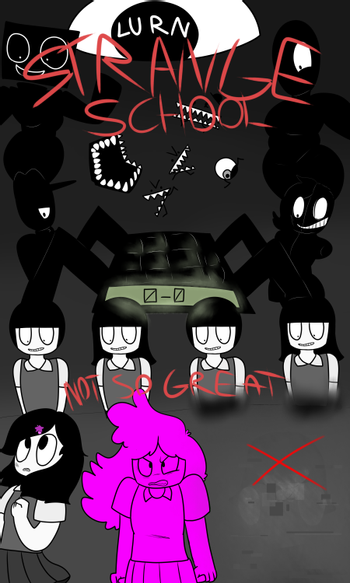 Ms. Board: Alright kids, settle down! We have a new student today!
Entire Class: IT IS NICE TO MEET YOU.
Pink Girl: (Why..they all look…oh god)
Ms. Board: I guess I'll address the obvious, she's a bit…. different!
Pink Girl: (Please let go of my arm)
Ms. Board: But we should all love our factory error classmate all the same, right, kids?
Entire Class:
WE LOVE YOU, ERROR!
— Pink Girl's first day at her first classroom in The School
"We all belong to our own respective Class 9 autoperceptual omnimaterial repeating concept spirals, like The Hospital, or The School, or The Sewer, or The Hand Factory, or The Frog Hotel."
— Stone Slab from
Awful Hospital
; the line which
inspired the creation of Strange School
A girl awakens with a jolt in a derelict dump of a school infirmary. Somehow, she has wound up in a surreal School that almost seems be its own isolated universe. The Students here are quite literally factory-produced. None of the teachers are human, and several of them are viciously cruel. Nobody has a clue how this human girl wound up in this School but the teachers have no intention of returning her home. And she only has so long to find some way to escape this warped and hostile mockery of a learning institute. Only so long before Graduation.
Strange School: Not So Great is an Interactive Comic, based off Bogleech's Awful Hospital webcomic. Its author is Yamemeda and can be read here,
(Since it's tumblr-based, if you wish to see this story straight from its beginning, your best bet would be to click directly here, instead.)
---
Strange School provides examples of:
Reality Ensues
, though, because unlike blood, oil cannot replenish itself, nor does it have the ability to form clots and scabs. Thus, cut wounds are more serious business for Students than regular humans.
The Secret of Long Pork Pies: Before Error first awoke in the School, there was an incident where several disobedient Students simply refused to leave the cafeteria. There are more insinuations than solid facts about what happened next... except that the Principal was most displeased, the cafeteria disconnected itself from The School for a time, yet the obedient students still got to be fed.

The Principal

: WE HAD PLENTY OF

LEFTOVERS

TO FEED THEM WITH, THOUGH.

The Sleepless: Students are programmed to study, study, study without ever needing to slumber in between.

The Principal: SLEEP? WHAT KIND OF GOOD STUDENT SLEEPS?

Truce Zone: The cafeteria. Kinda. See, the cafeteria here is technically not part of The School, but rather an attached offshoot of Burgrr, Inc. And unlike The School, Burgrr has no problem with its patrons expressing their individuality, a policy which Students are all too happy to take advantage of. Of course, this being Burgrr, Inc., kids still can't entirely let their guard down here either.
Weird Currency: Merchant will give whatever he happens to have on him in exchange for anything edible.
Would Hurt a Child: All too many of the teachers.
You ALL Look Familiar: All the School's Students are factory-produced clones, lucky to be distinguishable by gender.
You Are Number 6: Students are all numbered, not named.
You Have Failed Me: Perhaps one of the scariest aspects about The School is its threadbare-thin tolerance for rule-breaking. All it takes is a single reprimand point.
You Wake Up in a Room: The Pink Girl wakes up in the School infirmary. Neither she nor anyone else in the School seems to have the faintest idea how she got there in the first place.
Younger Than They Look: All the Students. Physically, that is.

Ms. Board:

Our students are usually one or two

y3%3s

old! No more, no less before they graduate!