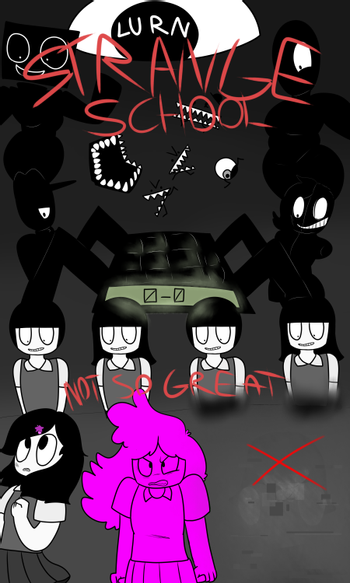 Ms. Board
: Alright kids, settle down! We have a new student today!
Entire Class
: IT IS NICE TO MEET YOU.
Pink Girl
: (Why...they all look…oh god)
Ms. Board
: I guess I'll address the obvious, she's a bit…. different!
Pink Girl
: (Please let go of my arm)
Ms. Board
: But we should all love our factory error classmate all the same, right, kids?
Entire Class
: WE LOVE YOU, ERROR!
— Pink Girl's first day at her first classroom in The School
"We all belong to our own respective Class 9 autoperceptual omnimaterial repeating concept spirals, like The Hospital, or The School, or The Sewer, or The Hand Factory, or The Frog Hotel."
— Stone Slab from
Awful Hospital
; the line which
inspired the creation of Strange School
A girl awakens with a jolt in a derelict dump of a school infirmary. Somehow, she has wound up in a surreal School that almost seems be its own isolated universe. The Students here are quite literally factory-produced. None of the teachers are human, and several of them are viciously cruel. Nobody has a clue how this human girl wound up in this School but the teachers have no intention of returning her home. And she only has so long to find some way to escape this warped and hostile mockery of a learning institute. Only so long before Graduation.
Strange School: Not So Great is an Interactive Comic, based off Bogleech's Awful Hospital webcomic. Its author is Yamemeda and can be read here,
(Since it's tumblr-based, if you wish to see this story straight from its beginning, your best bet would be to click directly here, instead.)
Has since received a sequel/reboot, Strange School: Even Stranger.
---
Strange School provides examples of:
---