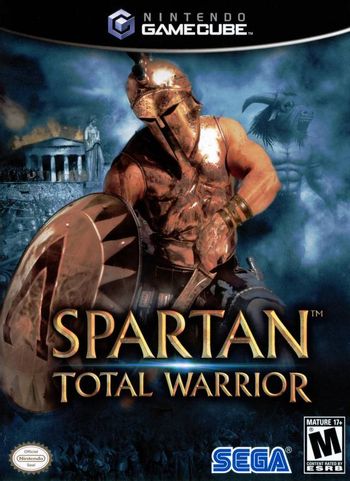 Spartan: Total Warrior
is a
Spin-Off
action game of the
Total War
series, developed by
Creative Assembly
and published by
Sega
in 2005.
No, you will not be controlling entire Spartan armies while battling Athenians in the Peloponnesian War
. Whereas the
Total War
games traditionally focus upon historical and legendary scenarios with each installment, this game takes on a much more liberal approach to history, by having the Romans invade Sparta several hundred years before they did in
Real Life
, with Tiberius as Emperor and Crassus as a well-known military commander. Drawing elements from the
Greek and Roman mythology
,
Spartan: Total Warrior
shares a lot in common with
God of War
, while giving a fairly fresh take on the gameplay.
You take control of a lone, nameless Spartan warrior, fighting alongside his Greek allies against the Roman Empire, while being guided by Ares. The story is told using a five-act, three-scene structure made popular by Ancient Greek plays. The gameplay itself features fast-paced hack and slash combat, and you're able to switch between attacking one enemy, to damaging several groups of enemies over a large area around. The former is fast and causes the most amount of damage, whereas the latter attack is slower, but damages multiple enemies at a time with a moderate power. Combat is focused on large battles with over a hundred combatants, with the player taking on volumes of opponents at once, with you often completely surrounded and outnumbered. In the midst of battle, a small flash is placed on an attacking enemy's weapon to indicate the danger of an impending strike. Care must be taken to block incoming attacks in between offensive blows, balancing offense and defense to avoid taking damage. The player's shield can also be used to shove enemies back and maintain control of the flow of combat in crowded scenarios.
As the player progresses through the game, the Spartan will unlock new weapons, including a basic sword and shield, a basic bow, an upgraded sword and shield (medusa shield), dual swords (blades of Athena), an upgraded bow, a hammer (Death-Biter) and a spear (Spear of Achilles).
Act 1

Chapter 1: The Storm Breaks
Chapter 2: A Spartan Welcome
Chapter 3: The Last Stand

Act 2

Chapter 1: The Badlands
Chapter 2: The Wild Bunch
Chapter 3: The Ruin of Heroes
Chapter 4: The Ghosts of Troy
Chapter 5: The Sentinel
Chapter 6: Resistance

Act 3

Chapter 1: Revolution
Chapter 2: The Eye of Apollo
Chapter 3: The Gates of Saturn
Chapter 4: Death and Circuses
Chapter 5: The Gods of Battle
---
Tropes present within the game:
---