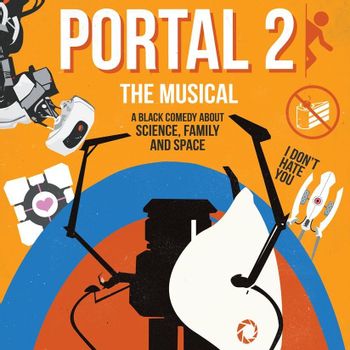 Portal 2: The (Unauthorized) Musical is a fan-made stage show adaptation of the beloved video game of the same name. It is a product of the Vancouver-based musical theater burlesque comedy troupe Geekenders Theatricals. It was performed in January of 2015 at Vancouver's Rio Theatre.
The show retells the story of Valve's game, that of captive test subject Chell and her robot tormenters in Aperture Laboratories. It does this with the help of clever, Portal-ized parodies of show-tunes, giving us numbers such as "Poor Unfortunate Subjects," "Suddenly Wheatley," and "Do You Hear the Turrets Sing." Fairlith Harvey, the show's GLaDOS, added additional dialogue for the show that is very much in the vein of the darkly comic world of Aperture.
The entire thing is available to view on YouTube here
. Its soundtrack is available for purchase here
. Geekenders' home page can be found here
.
In June of 2016, Geekenders launched an Indiegogo campaign
for their 2017 update of the show. The 2017 remount, with an updated script, set, and costumes, can be viewed here
.
Because the plot sticks closely to the source material, this page will only feature tropes exclusive to the musical, and spoilers for the plot of Portal 2 will be left unmarked. Tropes already present in the video game itself can be found on its page.
---
Portal 2: The (Unauthorized) Musical contains examples of:
---