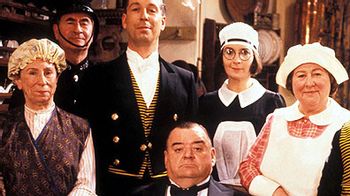 From Mayfair to Park Lane,
You will hear the same refrain,
In every house, again, again,
You rang, M'Lord?
You Rang, M'Lord? was a Brit Com in the early 1990s. Written by Jimmy Perry and David Croft and featuring many cast members from their previous comedies Hi-de-Hi! and It Ain't Half Hot, Mum, the show was set in a London townhouse in the late 1920s, and centred around an aristocratic family and their servants.
The pilot, broadcast two years before the series properly began, opens with a prologue set during World War I, where a soldier called Alf Stokes (Paul Shane) robs the body of a fallen officer, to the disgust of his reluctant partner in crime James Twelvetrees (Jeffrey Holland). He plans to use the body as a human shield but the officer isn't dead after all: recovering in hospital, the Honourable Teddy Meldrum (Michael Knowles) thanks them for heroically saving his life.
Nine years later, James is Teddy's family's footman with aspirations of promotion to household butler, until Stokes - who's been performing with his daughter Ivy (Su Pollard) in a music hall act - applies for the position with references he blackmailed out of a former employer. Stokes gets Ivy a position as a maid in the household, warning her not to reveal that he's her father, and pointing out to James that anything he might say to discredit him would incriminate himself.
The rest of the below stairs staff comprise Mrs Lipton the cook (Brenda Cowling), Henry Livingstone the boot-boy (Perry Benson), and Mabel Wheeler the charwoman (Barbara New), who's looked down on by the other servants. The family are Teddy's older brother, Lord Meldrum (Donald Hewlett); his senile, alcoholic mother-in-law, Lady Lavender (Mavis Pugh); and his two daughters - Poppy (Susie Brann), a spoiled flapper, and Cissy (Catherine Rabett), a crossdressing, lesbian aviator and socialist. Other characters appear in almost all episodes, including the local policeman Constable Wilson (Bill Pertwee) and Lord Meldrum's mistress, Lady Agatha Shawcross (Angela Scoular).
The four series, 26 episodes in all, are a mix between standard sitcom plotlines (Stokes has stolen some money and hidden it in a vase, but it's been sent to the church auction), ongoing story arcs (Ivy's unrequited love for James, Teddy's obsession with servant girls that leads to him eloping with one) and social commentary on the 1920s class system. The series is reminiscent of both the drama series Upstairs Downstairs and the Jeeves and Wooster novels: the latter is lampshaded several times in the series, most obviously when Stokes responds to Teddy's convoluted plan for getting out of his arranged marriage with "I think perhaps, you've been reading too much P. G. Wodehouse, sir."
Unusually for a British sitcom, the episodes were 50 minutes long: while this allowed for more complex plots, this has been cited as a reason for why the show has been less frequently repeated than other comedies.
---
This series provides examples of:
---