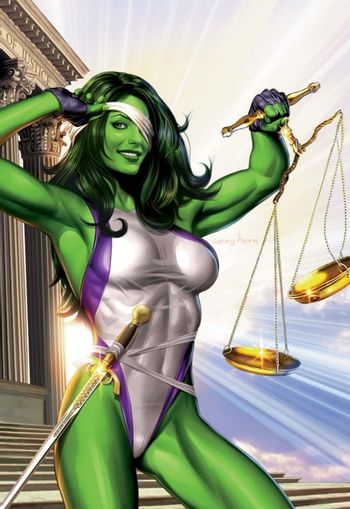 (For full effect, read in the voices of either Lisa Zane, Cree Summer, Eliza Dushku, Katee Sackhoff, Maria Canals Barrera, or Tatiana Maslany.)
Hold on. You mean to tell me WILSON got a Self-Demonstrating page before me?! Even though I've been tearing down Marvel's fourth wall two years before he even showed up?! You're lucky I'm not nearly as ill-tempered as my bigger cousin, or you'd have one hell of a mess on your hands.
So I might as well introduce myself: the name's Jennifer Walters, and before I became the lean green machine you see today I was the shy daughter of Sheriff Morris Walters and Elaine Banner. My life took a dramatic turn when one of the local crime bosses tried to kill me to get back at my father. Had it been any other day I would've been a goner, but lucky for me my cousin Bruce was in town and he gave me the blood transfusion that saved my life. Little did I know the gamma radiation in his blood would have the same effect on me and would turn me into a raging green giant too: a She-Hulk if you will.
At first I transformed whenever I got scared, but eventually I was able to control my change at will. And once I got a grip on my own emotional holdups (the less we dive into that the better), I became the sensational gal you see today! While the old me was shy, mousey, and a bit of a stick, the new me is strong, confident, and the life of the party!
And don't think for a second I'm just some girly sidekick for my cousin. Ever since I've been turning green I've been an Avenger, one of the Fantastic Four, a Defender, a Hero for Hire, a Lady Liberator...let's just say I've been a busy girl. Heck, I even get to lead my own team in A-Force!
I've made some animated appearances too, most notably as second billing to my cousin in The Incredible Hulk (1996) and as one of the members of Hulk and the Agents of S.M.A.S.H.. Plus, I finally joined the Marvel Cinematic Universe with She-Hulk: Attorney at Law (about time Disney!), which even makes me a Fourth-Wall Observer again.
Like I said, I've been Breaking the Fourth Wall before Wade took over that schtick (Thanks Byrnie!). That said, I have used the comics themselves as legal records for whenever I have a case that involves superheroes. Just because I'm a Hulk doesn't mean I'm all muscle you know.
Feel free to go back to my main page if you want. Or you can hang out here and get to know me personally. C'mon, you know you want to!
---
She-Hulk provides examples of:
---