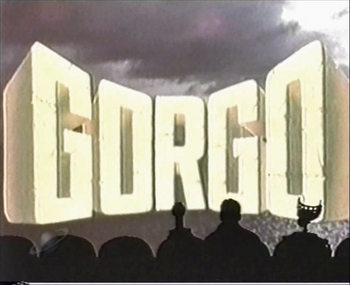 Film watched: Gorgo
Before DVD and Digital releases, this experiment only aired twice on its premiere day. It was taken down from rotation due to copyright disputes.
The episode is available on Shout! Factory TV here
.
The Segments:
Prologue
Crow's nesting an egg for a Spix's macaw. He soon gains another egg.
Segment 1
Crow fires hot lead at weasels trying eat the eggs. Meanwhile, Pearl is in Los Angeles with film critic Leonard Maltin to present today's experiment, Gorgo. He says that the film sent two of his assistant editors to the hospital.
Segment 2
Segment 3
Mike tries to play Trivial Pursuit: William Sylvester Edition with Crow and Servo, but they don't care.
Segment 4
The Nanites set up a circus with live animals, carnival games and acrobats (and Nate the Clown). Mike drops some quarters, which wreaks havoc on the circus (and Nate the Clown).
Segment 5
Crow and Servo are in hot water with the mob over their planned line of Gorgo erotic calendars when they can't find a single woman in today's film. Mike points out two; one in Nara Island, another during Mama Gorgo's rampage. Pearl and Maltin are shocked as the film seemingly had no serious effect on Mike or the 'Bots. For a worse film, Maltin suggests one with Mickey Rourke, and teams up with Pearl for future experiments.
---
The MST3K presentation contains examples of:
---
---