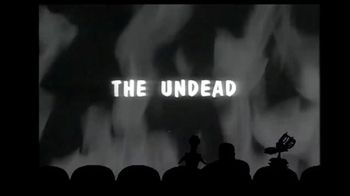 Film watched: The Undead
The episode is available in the Gizmoplex here
, and on the MST3k YouTube channel here
.
The Segments:
Prologue
Mike tries to explain their current predicament with the Observers to the audience, but Crow and Servo insist that he explain all that's happened before in every detail. Mike then gets locked in a memory of one of his old temp jobs and the 'Bots get nervous.
Segment 1
The Observers give the crew and Mads intelligence tests to determine exactly how inferior they are compared to themselves. Servo aces the entire test (missing only one question) and even outscores one of the Observers, whose brain is sent to the Enrichment Chamber as punishment.
Segment 2
Servo is invited down to the Observer planet to join their ranks, though he's really no good at observing. His time as an Observer comes to an end when he's caught stealing spoons from their silverware drawer.
Segment 3
Livia the witch appears on the SOL to steal the crew's souls, but her shapeshifting magic is a little out-of-whack.
Segment 4
Mike recognizes Digger Smolkin from an old record he had bought and puts it on for the 'Bots to hear. They find that Smolkin can sing a wide range of genres, even if he does pepper his verses with random shouts of "filth", "rat" and "corpse".
Segment 5
Upon learning that Leonard Maltin gave The Undead three stars in his Video Guide, Servo has Mike act as Maltin so he can yell at him for it. Bobo sneaks out to make a sandwich and mistakes the Observer's brain in the Enrichment Chamber for lunchmeat. And Crow is an imp.
---
---
---