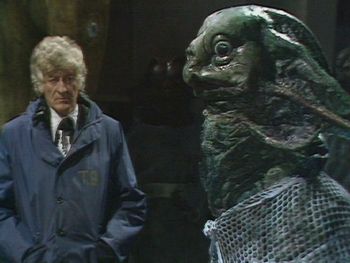 The Doctor: If Horatio Nelson had been in charge of this operation, I hardly think that he would have waited for official instructions.
Captain Hart: Yes... a pretty impulsive fellow. If one can believe the history books.
The Doctor: History books? Captain Hart, Horatio Nelson was a personal friend of mine.
The one where the Doctor steals the Master's lunch... and reverses the polarity of the neutron flow!
Written by Malcolm Hulke. This six-episode serial first aired from February 26 to April 1, 1972.
---
The Doctor and Jo visit the Master in his high-security offshore prison and find out that ships have been disappearing at sea. The Doctor investigates, and learns that the sinkings appear to centre around an abandoned sea fort. Heading out there, they encounter what one sailor calls a "Sea Devil" — apparently an amphibious breed of "Silurian" (see "The Silurians"). In fact, the Doctor hangs a lampshade on an error in the previous serial by pointing out that the discoverer got the name wrong — the creatures are from the Eocene period, not the Silurian.
It turns out that the Master has the prison governor under control. The latter is procuring parts so that the renegade Time Lord can build a machine to revive the Sea Devils from hibernation. Jo sneaks around to rescue the Doctor, and the Doctor engages the Master in an awesome fencing battle, disarms him, holds him at swordpoint and munches down on the Master's lunch before tossing him back his sword simply because he's having too much damned fun.
Using cars, boats, stock footage of a helicopter, a close-up toy submarine and one giant actual ship, the Doctor tries to establish contact with the creatures. He goes down in a diving bell to try and negotiate with the Sea Devils, but politicians have got involved now and a depth-charge attack soon disrupts to negotiations. In the confusion, the Doctor frees a captured British submarine and heads back to the surface.
The Sea Devils attack and capture the nearby naval base and with it the Doctor, who is taken to the Master and forced to help him finish the machine. But the Doctor sabotages it, and the two Time Lords get away on jet skis. The Sea Devils are all killed in the explosion, but the Master makes his escape in a hovercraft.
Tropes:
---