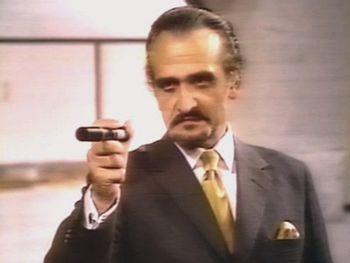 "The human body has a basic weakness. One which I shall exploit to assist in the destruction of humanity."
— The Master
The One With… a killer inflatable plastic chair, an impressive accidental stunt, and the first appearance of an iconic villain.
Although a theme that had been explored before, with the Meddling Monk ("The Time Meddler") and the War Chief ("The War Games"), the introduction of the Master as the main villain for every story of season 8 saw a true Evil Counterpart for the Doctor — a Moriarty to the Doctor's Sherlock Holmes, as the BBC Classics website puts it. Roger Delgado played his first known incarnation, yet not the first chronologically like William Hartnell — but that's a story for another time. It was also the debut of Josephine "Jo" Grant (Katy Manning), and Captain Mike Yates (Richard Franklin), both of whom would go on to have very prolific careers in the Big Finish audio range after their classic series runs.
Written by Robert Holmes. This four-episode serial first aired from January 2—23, 1971.
---
The Master lands his TARDIS (which does have a working chameleon circuit) in a circus, and sets about his evil plan; first he steals a Nestene energy unit from a museum (see "Spearhead From Space"), then reactivates it using a radio telescope and finally takes over a small plastics firm using his powers of hypnotism. Using the firm's factory, he produces deadly chairs that engulf and kill, plastic daffodils that spray a plastic film over the mouth and nose, and deadly plastic dolls. Autons distribute the daffodils in a promotional campaign. The final phase will be to use the radio telescope to summon the Nestene Consciousness and activate the daffodils.
Meanwhile, the Doctor is investigating the mysterious deaths caused by the chairs and dolls with the help of Jo Grant, a young UNIT assistant who has been given her position thanks to a uniquely persistent relative. Jo falls under the Master's hypnotic influence and nearly blows up UNIT HQ with a bomb. Later, the Master installs a new telephone in UNIT HQ and the cord nearly strangles the Doctor.
Eventually, though, the Doctor persuades the Master that the Nestene Consciousness will have no use for him once they arrive, and they work together to repel the Consciousness into space.
After the Master pulls off a last-minute escape from UNIT troops, the Doctor notes that they are unlikely to have heard the last of him, and that actually he's quite looking forward to matching wits with him again.
---
Tropes:
---