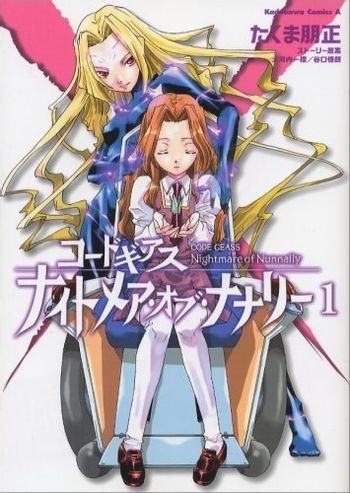 Code Geass: Nightmare Of Nunnally is an Alternate Universe version of the original Code Geass. The story starts off the same way as the original right up until Lelouch first meets C.C. From there, Lelouch and C.C. are (presumably) killed in a nearby explosion. Nunnally, after hearing news of the explosion, heads over to the area and finds a strange doll with a Geass symbol on it. It speaks to Nunnally telling her that it's a "keepsake from her brother" and convinces Nunnally to make a Geass contract. She does, transforming herself into an Action Girl and gains the ability to see into the future, along with a katana wielding, EVA expy Knightmare Frame.
Enter a new group of Britannian agents, the "Britannian Special Honorary Foreign Legion Irregulars"; and some shiny new powerups for others.
---
Code Geass: Nightmare of Nunnally contains examples of:
Was It All a Lie?:

When Nunnally is captured by Britannia and asks Alice this, regarding her recent realization that Alice is a Britannian soldier. It wasn't.

"World of Cardboard" Speech: Done by Nunnally to Lelouch, not exactly a hero's confrontation of a Big Bad, but rather her telling him why she chose not to go with their parents' Assimilation Plot.

Also when Nunnally declares that she's been living in the past, and decides to move forward, curing her blindness and paralysis and thwarting the Assimilation Plot.

Zettai Ryouiki: The girls at Nunnally's school as part of the uniform.
---