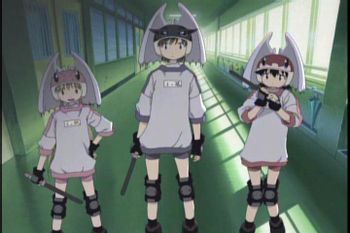 Alien Nine is a science fiction manga and OVA about a trio of 6th-grade girls (Yuri Otani, Kasumi Tomine, and Kumi Kawamura) who are selected by their elementary school to become alien hunters. Donning special uniforms, with rollerblades and helmet-like creatures called Borgs that they wear on their heads, the girls are tasked with hunting down and capturing the marauding aliens that periodically threaten their school. What starts off as a straightforward cute action story turns disturbing rather quickly when one of them gets eaten by an alien, and suspicions about the teacher running the program and the principal arise.
Alien Nine consists of:
The original three-volume manga by Hitoshi Tomizawa that ran from 1998-1999 in the Seinen magazine Young Champion.
A J.C. Staff OVA released in 2001 that became a cult classic.
A one-volume sequel manga released in 2003, Alien 9: Emulators.
Alien 9 Special, a nine-page single chapter that gives a (very) little bit of gap-bridging between Emulators and Next.
Alien 9 Next, a self-published 2015-2016 three-chapter sequel, with experimental computer-generated art. Currently ends inconclusively, suggesting that Tomizawa has or had plans for more.
Now has its own Character Page. Contributions are greatly encouraged and appreciated.
Compare its Spiritual Predecessor Parasyte.
---
Tropes:
---