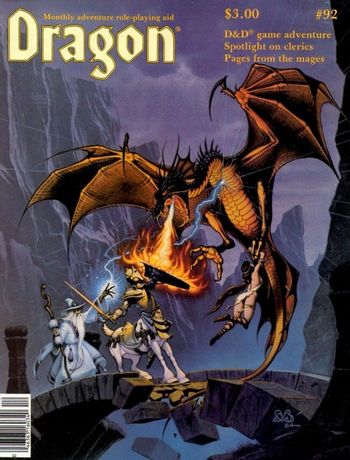 Dragon was the official Dungeons & Dragons magazine. Published from 1976 to 2002 by TSR / Wizards of the Coast, the magazine was outsourced to Paizo Publishing (a company founded by WotC alums, now known for publishing Pathfinder) through September 2007 (issue 359). At this point Wizards took the license back from Paizo, and restarted it as an online-only version, in which format it was published until 2013, whereupon it went on indefinite hiatus. In all incarnations, Dragon has been "100% official content", and much material that was first published in it has found its way into D&D gaming supplements; in this way, it has served as a proving ground for aspiring game designers. Three other publications were merged with it at various times—Little Wars (TSR's wargaming publication), Ares (for science fiction games that TSR acquired from SPI), and Living Greyhawk Journal (for WotC's organized play events).
From 1986 to its end Dragon was accompanied by Dungeon magazine, which provided premade adventures (mostly for Dungeons & Dragons). In 2015, both it and Dungeon were succeeded by Dragon+, a bi-monthly online magazine which published the same mix of content as its predecessors but restarted its numbering at No. 1.
The magazine spun off several comic strips, including Knights of the Dinner Table, What's New? with Phil and Dixie, Dork Tower, and Nodwick. Additionally, The Order of the Stick ran a series of bonus strips in it.
A CD collection of issues 1-250 and its predecessor The Strategic Review was released in 1999. It is very much out of print. The reason for this is that TSR, when digitizing the issues, neglected to get any clearances for copyrighted material they didn't own (including the Knights of the Dinner Table strips), and predictably, they got sued by angry rightsholders who weren't going to receive royalties.
Not to be confused with the Japanese magazine
called Dragon, which covers Japanese RPGs and includes manga, and was the original source of Slayers, Full Metal Panic!, Chrono Crusade, and other series.note While Dragon Japan is sometimes reported as being the source of Record of Lodoss War, Lodoss is in fact older than it, and its Actual Play beginnings were first serialized in Comptiq
. The confusion comes from the fact that it has played host to a great deal of later content for the wider setting, including the launch of the Sword World RPG system and the first serialization run of Rune Soldier Louie. While it has similar-ish content to the North American Dragon and shares a name (and even tends to cover a fair bit of Japanese D&D content), it was not owned by TSR and does not focus on D&D exclusively. And we use the present tense here, for as of the 2020s, Dragon Japan is still in print!
If you are looking for a trope about the Big Bad's second-in-command, see The Dragon. If you're looking for large reptiles of some sort, see Our Dragons Are Different.
---
Dragon provides examples of:
---