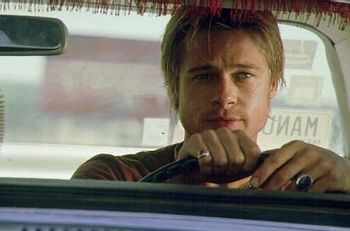 "By the grace of God or I don't know what, honey, you have managed to Forrest Gump your way through this. If we run now, we're going to be running the rest of our lives."
A 2001 crime comedy film directed by Gore Verbinski, starring Brad Pitt and Julia Roberts.
Jerry Welbach (Pitt) is a basically decent guy with pretty poor driving skills. Through inattention at the wheel, he manages to crash his car into that of Arnold Margolese, a notorious gangster. Margolese just happened to have a body in the trunk of his car, leading to his arrest when the cops came to investigate the accident. Now Jerry is in his employ, at least until Margolese leaves prison... and much to the annoyance of his girlfriend, Samantha (Roberts).
After five years of running errands for Margolese, Jerry is almost out of his debt. He just has one job left, a simple delivery. All he has to do is fly to Mexico and pick up a very special gun, the eponymous Mexican, then bring it to Margolese. Unfortunately for Jerry, things are about to get complicated. The Mexican is a very valuable commodity, and Margolese isn't the only one who wants it. With multiple buyers hoping to secure the gun, Jerry finds himself on the run from everything. And Sam, eager to leave him behind, is taken as collateral by the notorious hitman Leroy (James Gandolfini). Needless to say, Hilarity Ensues.
---
This film provides examples of:
---