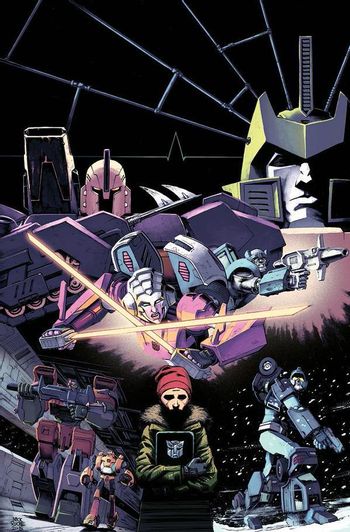 The Transformers: Sins of the Wreckers is a 5-issue miniseries from IDW Publishing, released on November 2015. It is a Sequel Series to 2010's runaway hit The Transformers: Last Stand of the Wreckers. Original artist and co-writer Nick Roche and original colorist Josh Burcham are returning from that series.
When notorious and ever-scheming Autobot commander Prowl is kidnapped, he finds himself alone, having driven away his allies with his manipulations. Desperate, he turns to his last resort; The Wreckers! Unfortunately for him, the few surviving Wreckers are broken after their final, brutal mission on Garrus 9. Now they're just a bunch of thugs, vigilantes, cripples, and old soldiers idling about. Can the Wreckers reform into the heroes they once were for this last job?
New characters can be found on Last Stand's character sheet.
A finale to the Wreckers saga The Transformers: Requiem of the Wreckers was released in 2018.
---
Tropes:
---