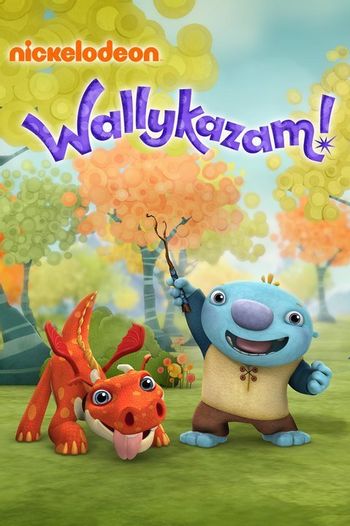 An animated interactive comedy for preschoolers created by Adam Peltzman. The show centers on the adventures of Wally Trollman and his pet dragon, Norville.
Wally and Norville live in a mythical forest among giants, goblins, ogres, sprites, and fantastical creatures of every shape and size. But Wally has a power like no other; using his magic stick, he can make any word spring to life! Each adventure has a new set of magic words that share a certain characteristic (they may start with a given letter, have a certain sound, or rhyme with each other). Wally uses these words to play with and transform the world around him. For example, if the magic words begin with "c" and have a hard "c" sound, Wally can create a castle, and launch himself into it with a catapult.
Wally uses his magic to solve problems, help friends, and overcome the antics of the forest's resident troublemaker, Bobgoblin. At times, however, his magic stick can cause unintended complications, such as conjuring a word that accidentally makes the whole forest go dark or sends his house galloping away! But Wally's magic stick ALWAYS helps kids learn new words and the basics of reading with each exciting, hilarious adventure.
This Show Contains Examples of:
Added Alliterative Appeal: Due to the nature of Wally's magic stick this happens a lot. For instance: in the beginning of one episode Wally conjures up a bunch of shovels and has them shake (that is, dance) but one of the shovels is hiding behind a bush because it's shy and after Wally and Norville convince it to come out by offering to dance with it it busts out all a bunch of Break-dancing moves and Wally expresses shock that it turned out to be such a good dancer.
All Animals Are Dogs: Wally's dragon Norville barks and otherwise behaves like a dog in a lot of ways.
Amazing Technicolor Population: Though everyone's a fantastic race of some sort so it doesn't feel too weird. Libby, a fairy (who are usually pretty human-looking) is the only one with a skin tone you might find in real life. Though Gina, who's a giant (who are also usually pretty human-looking) is purple, so...
Animate Inanimate Object: Wally uses the word "talk" on a rock and it comes to life. Her name's Rockelle and she and Wally become fast friends.
Argument of Contradictions: In "Castle Caper," Wally tries to smuggle in Norville into the castle that Bobgoblin has taken over in a cake as a Trojan Horse. The plan fails spectacularly: Wally dresses up in a Paper-Thin Disguise as a cake-delivery guy, but Bobgoblin replies that he didn't order a cake. Wally replies that he did and Bobgoblin just repeatedly argues that he didn't, until he catches Norville making noises in the cake, at which point Wally issues a Suspiciously Specific Denial about there being a dragon in the cake.
Bad Mood as an Excuse: In "The Collar Caper," when Wally asks the Pirate Snails why they won't give back Norville's collar, they reply that it's because they're pirates and pirates are grumpy, all day long, every day of the week, especially Tuesdays.
Baths Are Fun:

The Aesop of "How to Bathe Your Dragon." Wally even says straight up to his dragon, Norville, that "baths are fun."
In "The Bathmobile," Norville has apparently learned his lesson so well that he is in charge of the titular bathmobile along with Wally and helps to tempt others into the bath with bath toys and such.

Beware the Silly Ones: In "Victor the Villain" Victor the Villain is called "Silly" by Wally, but later on he manages to take everyone's stuff and drop it into an Ice Volcano.
Christmas Episode: Wally Saves the Trollidays
Companion Cube: Gina loves talking to/with her dolls. Truth in Television since it's a pretty common thing for girls in her age group to do.
Couch Gag: In the theme song, when the verse goes into the "Whoo-ho-ho-ho", whomever the camera focuses on during it is usually whom the episode will focus on, this includes Wally and Norville himself.
Cute Witch: Hattie, and later her younger sister Cappie
Description Cut: In "The Great Missing Potato," Wally explains that he and Norville have to get past a goblin guard in order to get to the wishing potato.

Wally: He's big and he's strong and he's...

Wally and Norville: Bobgoblin?!

Did You Get A New Hair Cut: In "Young Norville," the magic word "young" causes Norville to become a puppy. Upon seeing him, Bobgoblin says there's something different, asking if he changed his hair. Wally tells him he turned into a puppy and he replies "No, I think his hair is different." Wally points out Norville doesn't have any hair.
Does This Remind You of Anything?: "Buddy Pal Friend Day" revolves around Bobgoblin receiving a gift from Hattie and giving her nothing in return because Bobgoblin does not know how to think about her, not about himself. The episode plays out as if Bobgoblin and Hattie are an Official Couple and Bobgoblin is a bad boyfriend. Swap out Buddy Pal Friend Day with Valentine's Day and the episode stays virtually the same.
Emerald Power: Witches have green skin
Fake Interactivity: Wally will quiz viewers on things such as what word starts with a particular sound.
Forced Transformation:

In one episode, Hattie turns Bobgoblin into a cute bunny after she catches him riding on her broom. Bobgoblin thinks that being turned into a bunny is disgusting.
In "Keeping Cappie Happy," Baby Cappie has started to speak and keeps unwittingly casting magic each time she says something. She says "spoon" and changes Bobgoblin into a talking spoon. Spoongoblin pleads with Wally to use his magic stick to come with a word to help him out. Unable to immediately think of anything, they decide to just keep trying anything until something works, and change him subsequently into a pot, a cob (of corn) and a spinning top. They finally realize that since all the magic words for the day have the letter "O" and the "ah" sound that Bobgoblin is a magic word. Later, in the episode's endcap, Hattie spells out the word "hat" and calls over Bobgoblin, offering to make him a hat. He agrees because he feels he looks good in hats, but she turns him into a hat instead. She then shouts that the segment is over and starts rifling through her spellbook for a spell to turn a hat back into a goblin.

Bobgoblin: sigh Hatgoblin.

Full-Name Basis: Bobgoblin will always say "Wally Trollman" and "Norville Trollman". Even calls Betty "Elizabeth Yeti".
Friend to All Living Things: Ogre Doug's shown to have a lot of pets and his favorite book is a book of funny animals (Mumble Monkey, Ducktapus etc.). His "Ode To A Creature" segment after the show was about his pet Blathertash that constantly crashed into things due to bad eyesight so he got it a pair of glasses. The Blathertash loves them and gives him a kiss as thanks.
---