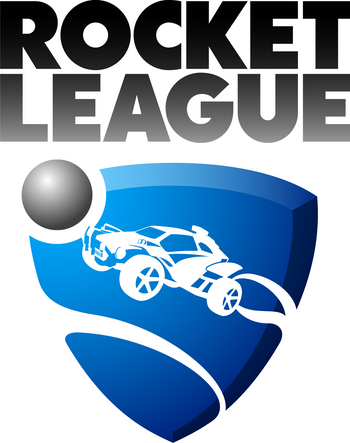 Rocket League is a physics-based vehicle sports game developed and published by Psyonix. The game is best described as soccer with cars. It's a sequel to Supersonic Acrobatic Rocket-Powered Battle-Cars, which describes your vehicles well as their capabilities of boosting and jumping.
The game flows as follows - two teams of up to four vehicles compete to knock a giant ball into the opposing goal. The arena is lined with quarter pipes and littered with boosts, so the vehicles can go in every which direction very quickly. It sounds simple, but like the real sport, there's a lot of strategy that can be employed.
Rocket League was released in July 2015 for PlayStation 4 and Microsoft Windows (on Steam), with a Mac and Linux Port being released September 6, 2016 (again via Steam). The game also includes cross-platform play between the PC versions and the PS4 Version. An Xbox One version was released in February 2016, although Microsoft's policies kept that version relegated to between Xbox Live gamers until May 24, 2016 (sometime after Microsoft loosened those policies), which on that date the Xbox One version also received cross-platform gameplay between it and PC.
PS4 and Xbox One gamers finally got to play with one another in mid-2019, after Sony loosened their rules on cross-play. A version for the Nintendo Switch is released in November 2017, complete with cross-play support as well as some exclusive skins themed after the Super Mario and Metroid series.
On May 1, 2019, Psyonix announced that the company was acquired by Epic Games. As a result of this, the game will also be sold on the Epic Games Store, alongside the Steam version. Over a year later, Rocket League would go free-to-play in September 2020. On May 6, 2021 a new skin for the game based off of NASCAR was released.
---
Rocket League provides examples of:
---