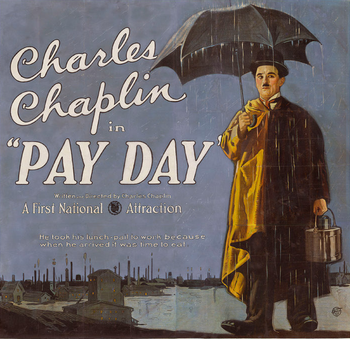 Pay Day is a 1922 short film written by, directed by, and starring Charlie Chaplin. It is the last two-reel (approx. 20 minutes) short comedy Chaplin ever made.
Charlie is a worker at a construction site who shows a remarkable talent both for catching bricks and for irritating his short-tempered supervisor. Charlie occasionally casts admiring glances at the supervisor's pretty daughter, but at the end of the day he has to go home to his horrible screaming battleaxe of a wife. It's pay day, though, so after managing to conceal some money from the wife Charlie goes out for a night of drinking.
Known for a remarkable sequence in which Chaplin uses a reversed film trick to show the Tramp catching a dizzying incoming blizzard of thrown bricks.
---
Tropes: